Hilfseinspeisungen für Automobilanwendungen: BD905xx-Serie

Overview
In recent years the automotive market has seen a greater demand for improved fuel economy and lower emissions in the automotive market, while at the same time the power consumption of MCUs and CPUs has risen dramatically due to the increased computerization and sophistication of today's vehicles. For example, a growing number of cars are integrating DDR memory for image processing and other functions.
The BD905xx series of synchronous rectification buck DC/DC converters was designed to efficiently supply power to a variety of automotive applications, contributing to greater energy savings. In addition, phase compensation and feedback resistance is built in, reducing the number of external parts required, reducing mounting area significantly.

Package
Highlight 1: Space-saving form factor
Built-in phase compensation and feedback resistors minimize the number of external parts, reducing mounting costs while saving space.

Highlight 2: Low-loss operation simplifies thermal design
Loss is 10 times lower than LDOs, minimizing heat generation during operation. This simplifies thermal design and makes them ideal for power supplies for DDR memory and MCUs in automotive applications.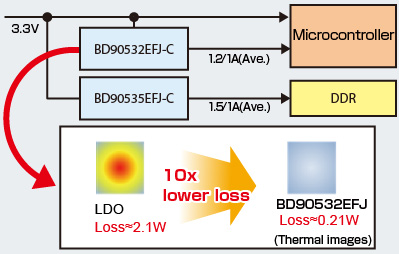 Highlight 3: High efficiency performance contributes to greater energy savings
Synchronous rectification is utilized for high efficiency (approx. 90%) operation, providing the energy savings required by the automotive market. In addition, a Light Load Mode is built in, ensuring optimum efficiency across the entire load range.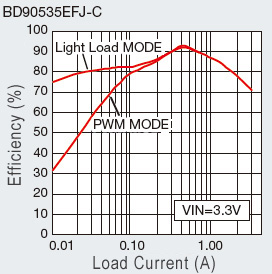 Lineup
Applications
- Automotive systems
- Car audio/navigation
- TVs
- Other electronic equipment
ROHM cultivates the most advanced technologies to develop products optimized to market needs.