Environmental Initiatives
Product Chemical Substance Management
The ROHM Group complies with all environmental laws and regulations in Japan and overseas along with customer requirements and conducts initiatives to procure materials that minimize environmental impact.
While regulations on product chemical substance management such as the EU RoHS Directive, EUREACH Regulations, and the China RoHS Directive are being further strengthened, we have established Green Procurement Standards and verified conformance to each regulation by accurately obtaining the chemical information contained in raw materials and parts.
Based on the cooperation of our business partners, we are promoting the creation of eco-friendly products, creating a management system that prevents prohibited substances from being received, used, or shipped, and supplying products that ensure worry-free use by our customers.
In addition, raw materials and parts delivered from suppliers as well as products to be shipped to customers are periodically checked for chemical substances using fluorescent X-ray analyzers installed at each production site and at ROHM's Quality Assurance Department.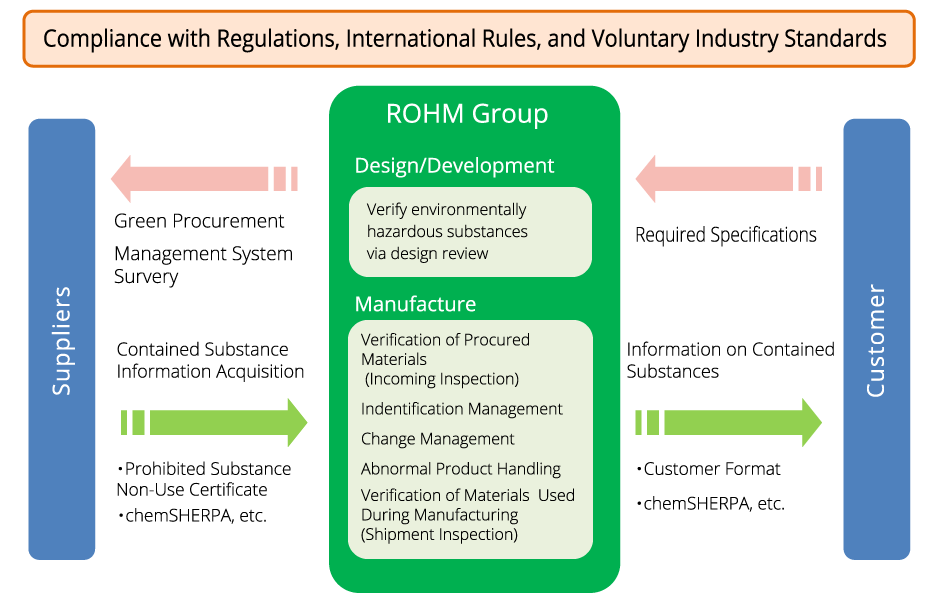 RoHS Directive
In 2004 ROHM completed the transition to lead-free to ensure compliance with the RoHS Directive (2002/95/EC) enacted in 2006
(excluding some custom products demanded by certain customers).
ROHM products also comply with the revised RoHS Directive (2011/65/EU) promulgated in 2011 and the additional directive ((EU)2015/863) established in 2015 restricting the use of specific phthalate esters.
Please note that our products do not contain restricted substances exceeding the maximum permissible concentration except for those exempt from regular applications.
| Restricted Substance | Maximum Allowable Value |
| --- | --- |
| Lead | 0.1wt%(1,000ppm) |
| Mercury | 0.1wt%(1,000ppm) |
| Cadmium | 0.01wt%(100ppm) |
| Hexavalent Chromium | 0.1wt%(1,000ppm) |
| PBB(Polybrominated Biphenyl) | 0.1wt%(1,000ppm) |
| PBDE(Polybromodiphenyl Ether) | 0.1wt%(1,000ppm) |
| DEHP(Di-2-Ethylhexyl Phthalate) | 0.1wt%(1,000ppm) |
| BBP(Butyl Benzyl Phthalate) | 0.1wt%(1,000ppm) |
| DBP(Di-N-Butyl Phthalate) | 0.1wt%(1,000ppm) |
| DIBP(Diisobutyl Phthalate) | 0.1wt%(1,000ppm) |