Exhibition Information
< HANNOVER MESSE in a nutshell >
When
: April 25 (Mon.) – 29 (Fri.), 2016, 9:00 to 18:00
Where
: Hannover International Expo Site
Summary
: The world's largest B-to-B business contact exhibition where what is the latest in industrial technology
and products are brought together under one roof.
Booth No. Visit ROHM
: Hall 11, Stand B44

>

Visit ROHM here!
Map of Hall 11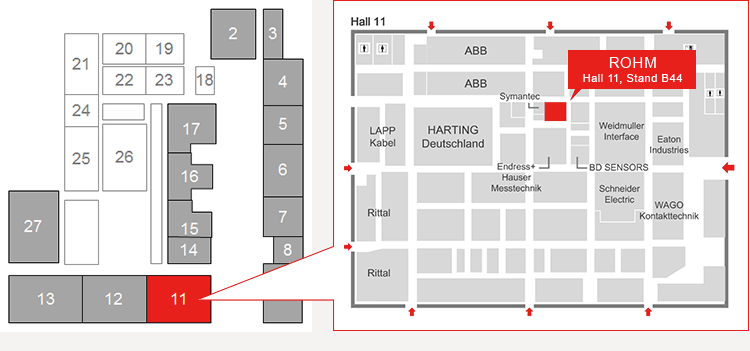 ROHM Semiconductor will exhibit its products at [HANNOVER MESSE 2016], to be held from April 25th (Monday) through the 29th (Friday), in the City of Hannover, Germany.
In this exhibition, the first of its kind for ROHM, under the topic of "Endless Possibilities" , the company plans to showcase a large number of key devices that contribute to [Industry 4.0], technological innovations encompassing virtually all industrial devices.
Please visit the ROHM booth packed with seeds (technologies) that pave the way to the future of industrial devices.
ROHM Booth Highlights
Power
SiC Innovating Possibilities
Complementing the latest product offerings in industry-leading silicon carbide (SiC), we will be showcasing a broad range of high-efficiency power supply solutions which represent the fusion of ROHM's particular strength, analog power technology, and cutting-edge digital technology.
In addition, our booth will feature a replica of the car that competed in the newest motor sport, Formula-E. Also dubbed as the F1 of electric vehicles, the car marks the further evolution a machine packing the latest technology powered by the SiC rolled out by ROHM.
Formula-E in a nutshell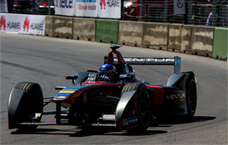 Formula-E is a single-seater championship sponsored by the Federation Internationale de l'Automobile (FIA).
Formula-E features a series of races involving the world's first fully-electric Formula cars.
Intended to promote the wide-spread acceptance of electric cars to curb air pollution in big cities, the races are conducted on city-street courses in the metropolitan and famous resort areas of the world. Currently Season 2 of championship races is underway, with participation of 10 teams (two drivers per team).
Beginning Season 3, ROHM's SiC SBD will make its presence known in Venturi team vehicles.
IoT/Industry4.0
Expanding Digitalization Possibilities
Witness Industry 4.0, IoT, and M2M. In our society virtually everything and all aspects are being offered and utilized in networks. At Hannover Messe 2016 we are presenting a wealth of product offerings ranging from sensors, microcomputers, and wireless communications technology that are essential ingredients for the building of smart societies. Come to see ROHM's application examples to match particular instances, involving uses such as, including smart factories, machine health, and environmental monitoring.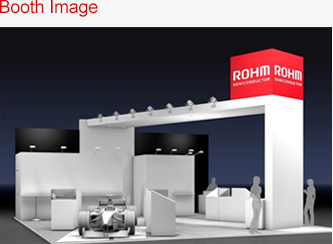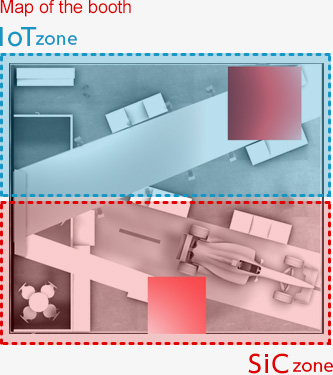 Salient Exhibits
SiC/Power devices
Beginning with SiC-MOSFET, the first of its kind in the world adopting the trench structure, we will demonstrate the latest product offerings featuring industry-leading SiC and AC/DC converter ICs with built-in SiC-MOSFET

Representative products
- SiC-MOSFETs
- 2nd Generation SiC Schottky Barrier Diodes
- Full SiC Power Modules
- SiC-Based Phase Shift Resonant DC/DC Converter
- AC/DC Converter Control IC with Built-in SiC MOSFET
- SiC-based LLC resonant isolated DC/DC converter
- Quasi-Resonant AC/DC Converter Control IC for SiC MOSFET Drive
- 600V 2nd Generation IGBT-IPM(Intelligent Power Module)
- 600V/15A IPM, Equipped Presto MOS
- 10kW 3 Level Motor Control SiC MOSFET Reference Design
(Collaboration with Xilinx and QdeSys)
- Isolated IGBT Gate Driver
- SiC MOSFET Reference Board
Power solutions

In the field of analog power, in which ROHM is particularly strong, in addition to various power supply ICs, we are proposing optimal power supply solution for industrial equipment and robots, including the leading-edge digital power supplies from Ireland's Powervation Ltd., a new member of the ROHM group.
Representative products
- Intelligent Digital Power Controller IC
Sensing solutions
See our wide range of high-precision sensor offerings, including acceleration, geomagnetic, and air pressure sensors, as well as ROHM's unique easy-to-use evaluation kits made by combining various sensors. We also showcase example sensors tailored to a variety of applications, including the smart factory, machine health, and environmental monitoring.
Representative products
- 3-Axis Digital Acceleration Sensor
- ROHM Sensor Medal (ROHM Sensor Evaluation Kit)
- Temperature, Humidity, Brightness monitoring , etc.
About ROHM
ROHM is a semiconductor manufacturer established in Kyoto in 1958, dealing with ICs, discrete semiconductors, passive components and modules.
We globally lead the semiconductor industry by emphasizing power devices, in particular SiC, which are indispensable to dramatically exhibit energy-saving effects.
For Industry 4.0, ROHM integrates technologies of sensor, control and wireless communications to support building of the sensor networks which will help you realize safe, comfortable and smart life.
Please drop in at ROHM booth.