ROHM Adds An Integrated Flash Memory Type to Its Popular Lineup of Wireless LAN Modules
Designed to be even easier to use - available in single units
June 26, 2013
ROHM has recently announced the addition of the BP3599 model with integrated flash memory to its lineup of popular, market-proven wireless LAN modules which are designed to be easily incorporated into electronic products such as mobile printers and A/Cs to enable wireless communication with smartphones.
Besides the ability to store wireless LAN firmware, this new module is IEEE802.11b/g/n compatible and can process TCP/IP protocol stacks. A chip antenna is also built in, which complies with all applicable radio standards in Japan and US, making it possible to immediately add wireless LAN functionality by simply adding onto existing sets.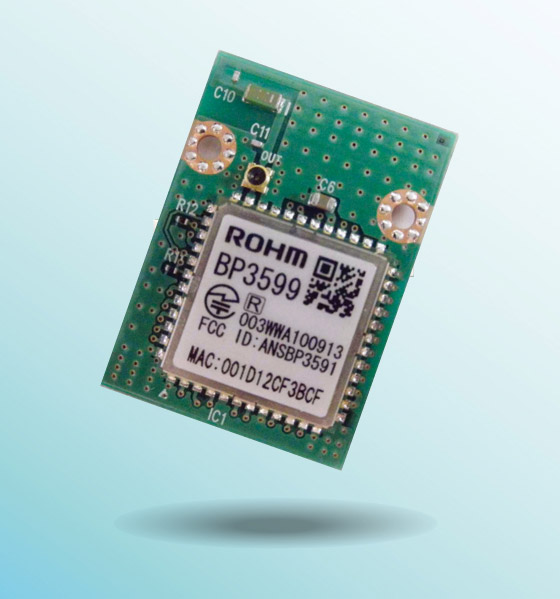 In recent years, with the increasing proliferation of home networks a greater number of devices, including smartphones and home appliances, are integrating wireless LAN functionality. However, this often requires wireless LAN standards processing, antenna design, radio law certification, and other issues that can drive up costs and the time required significantly. In addition, various support services are needed, such bulk purchasing, that can be a major cause of concern for customers wanting to introduce wireless functionality in their sets. In response, in 2012 ROHM released the BP3591 module that integrates all functions required for wireless LAN. Available in single units, its easy-to-use design was well received and adopted by hundreds of customers. However, a growing number of users were also requesting a module with built-in flash memory.
As a result, ROHM developed the BP3599 that incorporates flash memory for storing firmware, including the TCP/IP protocol stack. This new all-in-one wireless LAN module reduces customer development and manufacturing load significantly, and integrates a number of added features that improve basic functionality, such as IEEE802.11b/g/n/I compliance, a chip antenna, and radio law certification. In addition, the pin layout is identical to the BP3591, making replacement easy.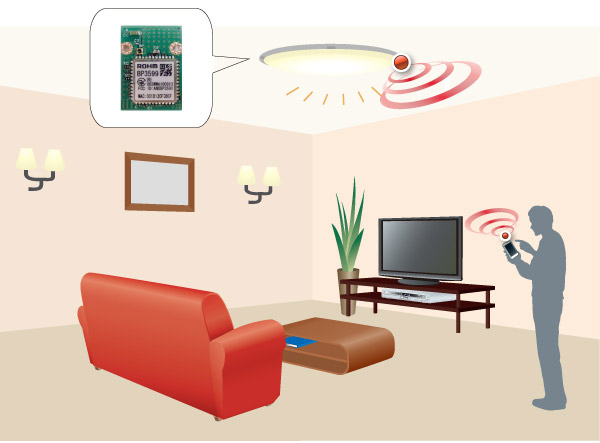 Availability: Now (OEM Quantities)
Key Features
All-in-one wireless LAN module significantly reduces manufacturing load
The station firmware, which includes the TCP/IP protocol stack, and access point firmware are already written into the built-in flash memory, making it possible to select the operating mode by simply switching the Flash Select pin High/Low.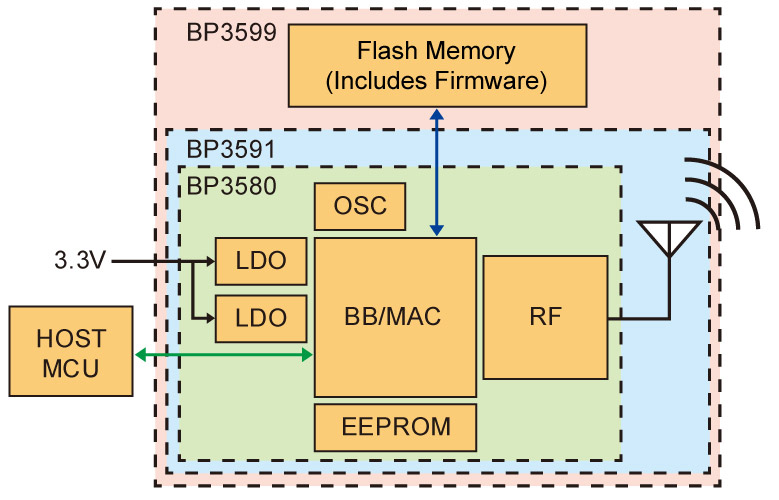 Specifications
Wireless LAN Standards
IEEE802.11b,IEEE802.11g
IEEE802.11n,IEEE802.11i
Host Interface
UART(to 921600bps)
Internal Flash Memory
4Mbit serial flash memory
Transmission Frequency
2,400MHz~2,483.5Mhz(ch1~ch13)
Transmission Power
IEEE802.11b : 15dBm±2dB
IEEE802.11g : 13dBm±2dB
IEEE802.11n : 12dBm±2dB
Transmission Rate
IEEE802.11b : 1~11Mbps
IEEE802.11g : 6~54Mbps
IEEE802.11n : 6.5~72.2Mbps
Access Method
CSMA/CA
Access Mode
Infrastructure/Ad hoc
Security
64bit/128bit/ WEP,TKIP,AES
Supply Voltage
3.3V
Current Consumption
Continuous transmission: 300mA Typ.
Receiving: 200mA Typ.
Sleep: 500μA
Operating Environment
Temp: -40~+85℃
Humidity: < 85% (no condensation)
WPS(Wi-Fi protected set up)
PIN/PBC method
Radio Law Certification
Japan, US (only in Japan when using an external antenna)
Flash Memory
Region 1
Station firmware with built-in TCP/IP protocol stack
Region 2
Access point firmware with built-in TCP/IP protocol stack
Terminology
IEEE802.11b/g/n/i
A wireless communication standard that utilizes the 2.4GHz band. The maximum transmission speed will vary depending on the designation: 11Mbps (802.11b), 54Mbps (802.11g), and 300Mbps (802.11n). The 802.11i standard defines various security protocols.
TCP/IP (Transmission Control Protocol/Internet Protocol) Protocol Stack
Consists of standard protocols for the internet and intranet. A protocol stack is basically a software group comprised of multiple protocols arrayed in a hierarchical structure.
Firmware
Software used to control electronic devices. In recent years firmware updates have been distributed through the internet to fix bugs or add new features and functions.