Die 1200V-SiC-MOSFETs von ROHM Semiconductor liefern kosteneffiziente, bahnbrechende Leistung
New SiC MOSFETs provide higher efficiency, power density and lower system BOM for next-generation power conversion systems
Santa Clara, Calif., September 19, 2013 – ROHM Semiconductor today announced the release of two new 1200V SiC (Silicon Carbide) MOSFETs, designated SCT2080KE and SCH2080KE, that are designed to deliver cost-effective, breakthrough performance. Both are 80-milliohm (mΩ) devices, and the ROHM SCH2080KE is the industry's first SiC MOSFET co-packaged with a discrete anti-parallel SiC Schottky Barrier Diode (SBD). This discrete diode features forward voltage that is three times smaller than that of the body diode. The combination of excellent switching performance, low on resistance and high breakdown voltage make these devices from ROHM Semiconductor ideal replacements to silicon power MOSFETs and IGBTs in applications such as solar inverters, three-phase inverters, DC-DC converters, uninterruptible power supplies (UPS) and motor drives.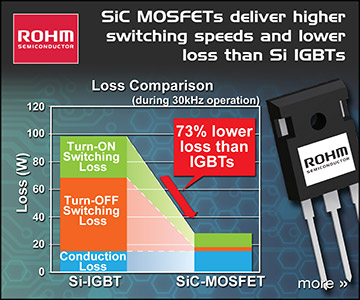 The ROHM SCT2080KE and SCH2080KE SiC MOSFETs offer significantly lower switching loss; as much as 90% lower than comparable silicon devices thanks to the absence of tail current and the fast recovery performance of the body diode. This allows power system designers to increase switching frequency to reduce size, cost and weight of passives. Furthermore, designers can use these benefits to achieve higher efficiency systems from the implementation of simplified, less expensive cooling systems such as moving from liquid or forced air thermal management to smaller and lighter passive air-cooled heat sinks. In addition, the 70-90 nanosecond turn-off and turn-on times featured with the ROHM SCT2080KE and SCH2080KE SiC MOSFETs permits switching frequency in the hundreds of kilohertz (kHz) range.
"At ROHM, our advanced device design ensures that both ROHM 1200V SiC MOSFETs have been optimized as cost-effective solutions for a broad range of power system applications, and the SCH2080KE is especially popular with customers because it allows them to save board space, simplify layout and reduce BOM costs compared to equivalent discrete products," said David Doan, senior product marketing manager at ROHM Semiconductor. "Importantly, ROHM's SiC MOSFETs are free from issues related to gate oxide breakdown, Vth stability and degradation of the body diode during reverse conduction, which makes them excellent solutions for all circuit topologies and in the most demanding applications."
Customers benefit from ROHM Semiconductors' full in-house production chain that enables the company to control the quality from wafer production to packaging and testing. Leveraging this control allows ROHM to successfully produce higher reliability SiC devices compared to alternative silicon parts.
Available in mass production quantities since July 2013, the ROHM SCT2080KE and SCH2080KE are available in the TO-247 package, and the SCT2080KE is also available in die form. ROHM Semiconductor plans to continuously expand its SiC MOSFET product line with devices that will feature lower on resistance and higher breakdown voltages.
For more information on ROHM's SCT2080KE and SCH2080KE SiC MOSFETs, please go to: www.rohm.com/web/global/sic-mosfet
About ROHM Semiconductor
ROHM Semiconductor (www.rohm.com) is an industry leader in system LSI, discrete components and module products. ROHM's proprietary production system, which includes some of the most advanced automation technology, is a major factor in keeping it at the forefront of the electronic component manufacturing industry. In addition to its development of electronic components, ROHM has also developed its own production system so that it can focus on specific aspects of customized product development. ROHM employs highly skilled engineers with expertise in all aspects of design, development and production. This allows ROHM the flexibility to take on a wide range of applications and projects and the capability to serve valuable clients in the automotive, telecommunication and computer sectors, as well as consumer OEMs.
Agency Contact:
Annette Keller
Keller Communication
(949) 640-4811
annettekeller@sbcglobal.net
Company Contact:
Jayme Pontious
ROHM Semiconductor
408-737-6259
jpontious@rohmsemiconductor.com