High efficiency 600V/15A MOS-IPM with built-in PresoMOS™ product informaton release
※PrestoMOS™ is a registered trademark of ROHM Co., Ltd. ('Presto' is an Italian musical term meaning 'extremely quick'.)
Overview
With the trend towards increasing awareness for greater energy savings and environmental protection comes a need to minimize power consumption in AC systems, which is typically the largest consumer of energy in the home. More specifically, it is important to improve loss during steady state operation at low loads as well as large power loads to the IPM during AC startup.
ROHM's BM65364S integrates a gate driver, bootstrap diodes, and bootstrap current control function into a single module that simplifies inverter system design along with a low ON resistance Super Junction MOSFET (PrestoMOS™) in the inverter block to achieve class-leading power consumption and significant energy savings - particularly during steady state operation.
Feature 1:Modular design makes configuring inverter systems easy
These new products integrate a MOSFET and gate driver required for the inverter block into a proprietary high heat dissipation package. And in addition to power device drive optimization, multiple protection functions are included, reducing design load and ensuring worry-free operation.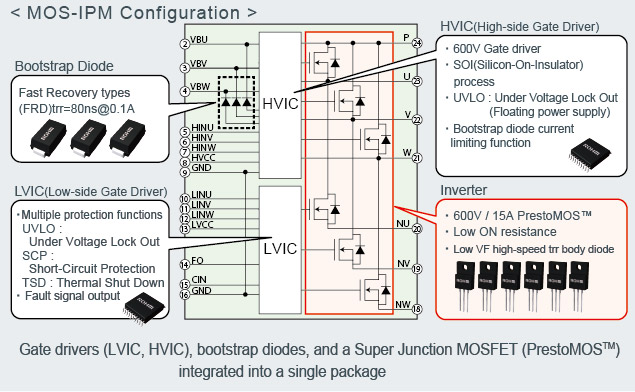 Feature 2:Significantly reduces loss during steady-state operation
In addition to increasing the power load to the IPM at AC startup, MOS-IPM reduces loss during small steady-state loads (2-4A) compared with IGBT-IPM, contributing to greater energy savings (improved APF※).

※The Annual Performance Factor refers to the energy consumption efficiency when using a residential AC system for an entire year
Package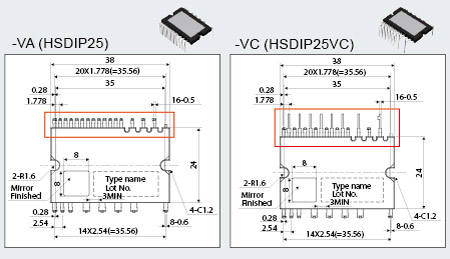 Offered in 2 package types
In addition to the standard HSDIP25 type, the HSDIP25VC package is available featuring staggered control pins that make dip soldering easier and provide better board isolation
Related Information
In addition to high efficiency 600V/15A MOS-IPM, ROHM will continue to expand its broad product portfolio by developing products and solutions that meet customer needs utilizing the latest technologies.