BSM180D12P3C007 1200V/180A Full SiC Power Module product information release

Overview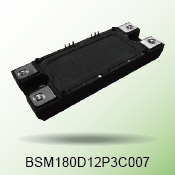 SiC devices are attracting attention due to their superior performance and characteristics compared with silicon as a semiconductor material.
ROHM's new SiC MOSFET, which utilizes a trench structure that reduces ON resistance by 50% and input capacitance by 35% compared with existing planar-type SiC MOSFETs, has been adopted in ROHM's 1200V/180A full SiC power module.
Features1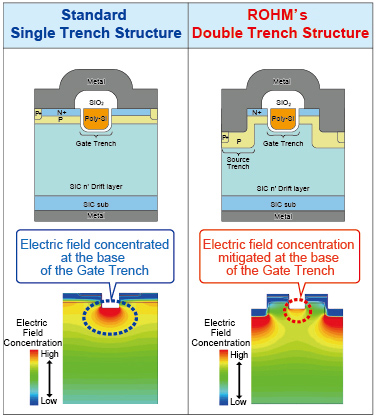 ・Proprietary double trench structure provides long-term reliability
Trench-type SiC MOSFETs are garnering increased attention due to their lower ON resistance. However, to ensure long-term reliability essential for commercialization it is necessary to mitigate electric field concentration at the trench gate. In response, ROHM utilized a proprietary double trench structure that minimizes electric field concentration, making it possible to quickly develop and produce SiC trench MOSFETs.
Features2
・Lower ON resistance
ROHM's unique design reduces ON resistance by 50% in the same chip size compared with conventional planar SiC MOSFETs and improves switching performance (35% lower input capacitance), contributing to greater system efficiency.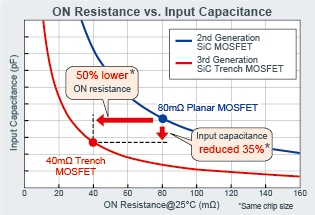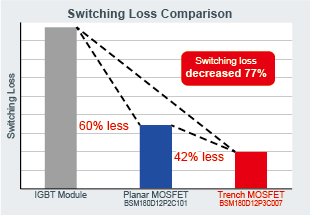 Specifications
Part No.
Absolute Max. Ratings
R

DS

(ON)
(mΩ)
Package
V

DSS


(V)
V

GS


(V)
I

D

(A)
(Ta=60℃)
Tj(℃)
Tstg
(℃)
Visol(V)
(AC 1min.)
BSM180D12P3C007
1200
-4~22
180
-40 to +175
-40 to +125
2500
10
C type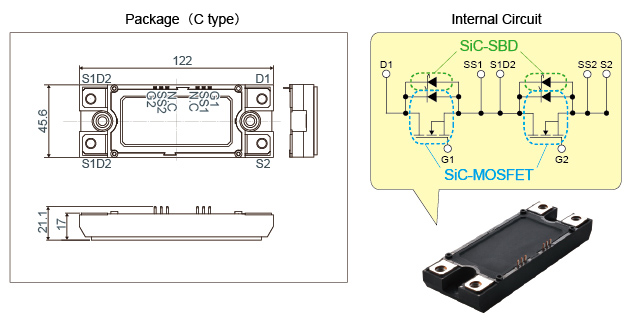 Related Information
■ Product Information

In addition to 1200V/180A full SiC power modules with built-in trench MOSFET, ROHM will continue to expand its market-leading product lineups and develop solutions that meet market by leveraging the latest proprietary technologies.