ROHM's USB Type-C Power Delivery Controller ICs
USB Type-C compliant high power transmission technology ideal for powering Laptops and Tablets.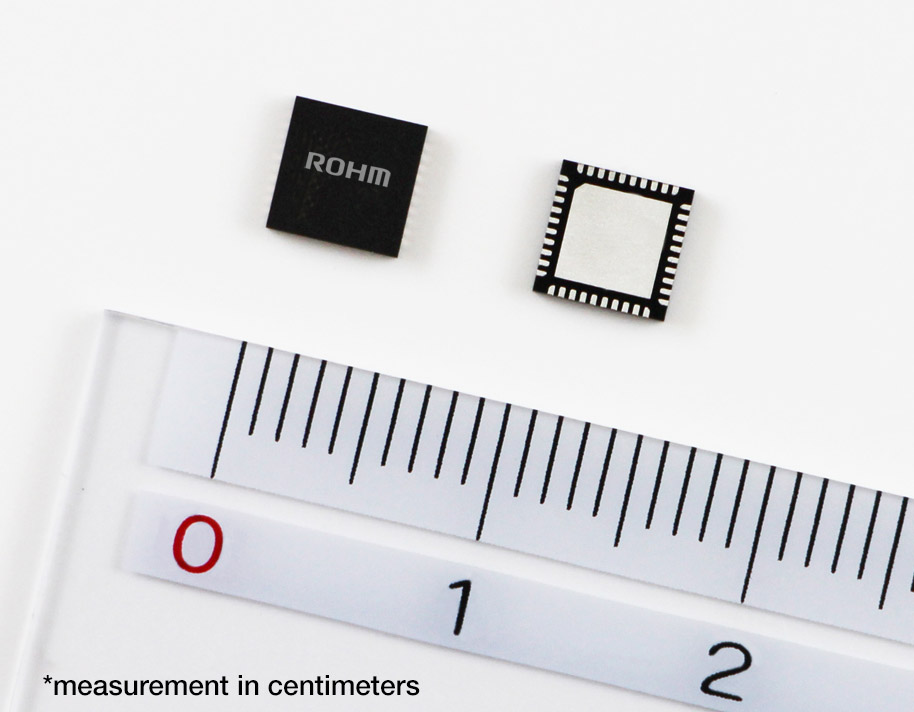 Kyoto, Japan and Santa Clara, Calif. – September 15, 2015 – ROHM has recently announced the development of a new class of power controller ICs compatible with the latest USB Power Delivery (Rev2.0) and Type-C (Rev1.1) specifications. The BM92TxxMWV series supports not only conventional USB power supply modes up to 7.5W (5V@1.5A), but also newly expanded power levels up to 100W (20V@ 5A) for USB Type-C connected devices. This will make it possible to drive equipment with higher power requirements such as PCs, Monitors, Docking Stations and Peripherals via USB while at the same time enable new compatible USB-equipped portable devices (i.e. smartphones, tablets) to be charged up to 4 times faster than the previous standard.
Recent years have seen a greater demand to reduce e-waste in many regions, including Europe, for example by utilizing or developing common connectors and chargers for a variety of electronic devices. As such, the latest USB connector and power transmission standards developed by USB-IF, which includes USB Type-C, USB Power Delivery (along with USB Superspeed), and the new DisplayPort tm Alternate Mode standard for carrying video, are garnering increased attention as a true all-in-one cable solution by making it possible to deliver high power, high-speed data, and even 4K video simultaneously over a single USB cable. This will eliminate the need for multiple dedicated cables, providing greater convenience while reducing clutter and waste.
Combining the new Type-C connector, which boasts a smaller, reversible, flippable cable design robust enough for laptops but slim enough for mobile phones, with USB PD that offers scalable power using multiple power delivery modes, results in a common, future-proof interface. ROHM leverages leading BiCDMOS processes and circuit technologies to develop USB PD controller ICs optimized for these latest USB standards.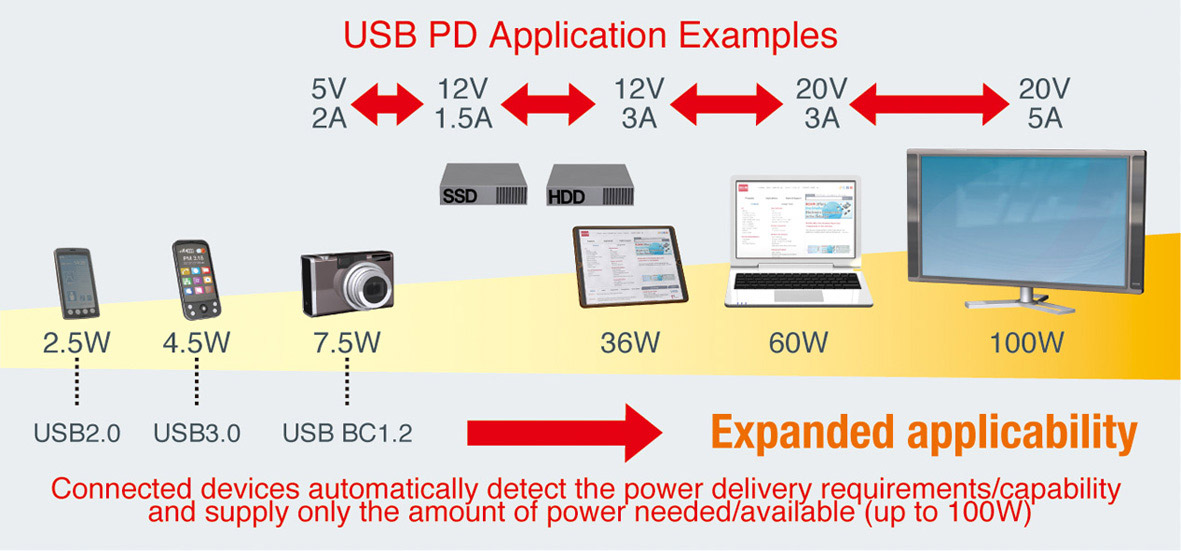 Key Features
1. Supports up to 100W of power supply using USB Type-C connectors
With the new USB Power Delivery standard, optimized power delivery (scalable from 7.5W to 100W using multiple power delivery modes) is enabled in both directions between USB Type-C connected systems through a power contract that determines the Provider (Supply) and Consumer (Receiver) devices. This achieves maximum efficiency, since only the required amount of power is requested and only the amount of power available is provided.
2. DisplayPort tm Alternate Mode compatibility eliminates the need for separate dedicated video cables.
Support for DisplayPort tm Alternate Mode is also provided for carrying video signals over USB. The capability to deliver high-speed data, video, and an unprecedented amount of power over a single cable represents a breakthrough achievement that is expected to improve convenience while minimizing clutter and waste.
3. Fewer parts required
Advanced 0.13um BiCDMOS processes and circuit technology make it possible to eliminate the FET and separate power supply for power receiving operation. This reduces the number of external parts by more than 20 (including the external power supply IC), contributing to greater miniaturization.
Product Lineup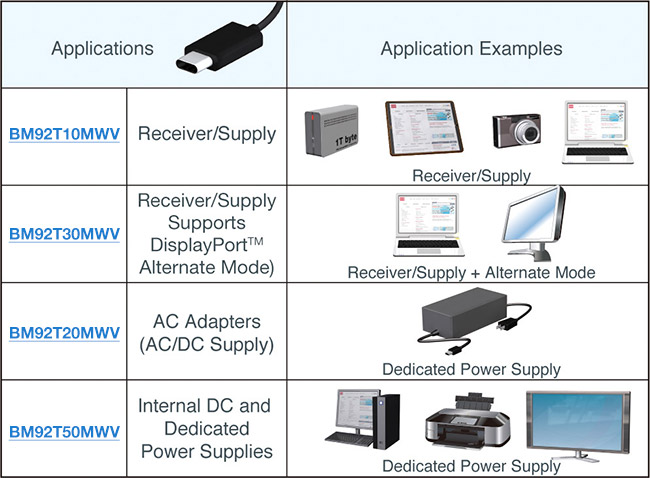 Availability
Sept. 2015 (Samples),
Dec. 2015 (OEM quantities)
What is USB Power Delivery?
A USB power expansion standard for delivering up to 100W of power over USB. This allows for larger devices such as laptops to be powered that are not possible using conventional USB and speeds up charging time considerably for portables.
Under the USB PD protocol connected devices negotiate power requirements and enter into a contract to determine the optimum voltage and current levels. USB PD communication requires a new dedicated CC line that functions independently of conventional USB data transmission.
Terminology
USB Type-C Standard (Type-C Connector)
Defined under USB3.1, USB Type-C is a new receptacle (concave connector), plug (convex connector), and cable standard featuring a more compact, reversible design. Unlike the previous standard that required Type B connectors to be connected to downstream devices and Type A connectors at upstream devices, both ends of a Type-C cable are the same and power requirements are negotiated between connected devices to determine the upstream and downstream facing ports (UFP and DFP), providing greater convenience and utility. 
USB Implementers Forum, Inc. (USB-IF)
A standards promotion organization established in 1995 to support the creation, management, and adoption of USB standards. Currently USB-IF has over 800 member companies and continues to help bring USB-compliant devices to market.