BM92Txx USB Type-C Compatible Power Delivery Controllers

Overview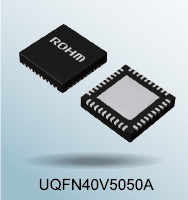 BM92TxxMWV Series is compatible with the latest USB Type-C Rev1.1 and USBPD Rev2.0 specifications, enabling support with not only conventional USB power delivery (7.5W max.) but the newly expanded range as well up to 100W (20V/5A).
This will make it possible to drive equipment with larger power requirements, such as TVs and PCs via USB, while at the same time enable conventional USB-equipped portable devices to be charged up to 4 times faster.
Key Features
USB Type-C Rev1.1 and Power Delivery Rev2.0 compliant
Voltage and current values negotiated for optimum power delivery
Enables power source switching without changing direction
Multiple power delivery Provides safe variable voltage control (i.e. 5V → 20V, 20V → 12V) optimize charging performance
Standalone operation possible without CPU
Proprietary high voltage processes and circuit technology minimize number of external parts required
Feature 1:Supports up to 100W power supply via USB Type-C connector
With the new PD standard, optimum power delivery is enabled up to 100W (20V/5A) through multiple voltage/current combinations determined by automatic negotiation of a power contract performed between USB Type-C connected devices to ensure selection of the ideal power profile.
Furthermore, the Provider (Supply) and Consumer (Receiver) sides can be switched, allowing power delivery in both directions.
Charging power is detemined and adjusted based on system requirements for superior efficiency, allowing even 36W (12V/3A) devices to be charged over 4x faster than conventional USB BC1.2 (5V/1.5A) specifications.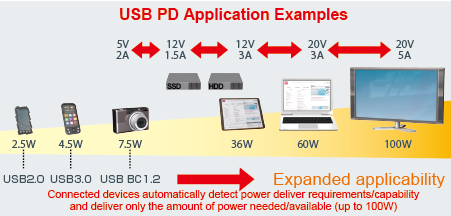 Feature 2:DisplayPort Alternate Mode compatibility eliminates the need for dedicated video ports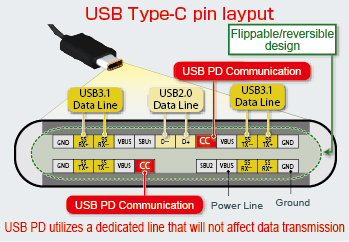 Support for DisplayPort Alternate Mode control is also provided for carrying video signals ove USB, eliminating the need for dedicated video ports in laptops and other devices.
The capability to deliver high-speed data, video, and an unprecedented amount of power over a single USB cable represents a breakthrough achievement that is expected to improve convenience while significantly reducing clutter and waste.
Lineup
Part No.

Application Examples
BM92T10MWV
Receiver/Supply
Receiver/Supply
BM92T30MWV
Receiver/Supply
(Supports
Alternate Mode)
Receiver/Supply + Alternate Mode
BM92T20MWV
AC Adapters
(ACDC Supply)
Supply
BM92T50MWV
DC Input
(Supply)
Supply
Related Information
■Upcoming Product News


USB Type-C and Power Delivery Compatible Controllers
BM92Txx Series

(473KB)
ROHM leverages advanced proprietary technologies and expertise to develop not only industry-leading USB Type-C Power Delivery controllers, but expand its broad lineup with novel products and solutions that meet market needs.