New product announcement on the SFR series of anti-sulfuration chip resistors

Overview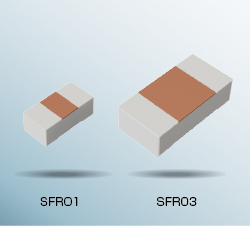 Components used in applications exposed to harsh environments such as automotive systems, industrial equipment, and communications infrastructure are demanding increased sulfuration resistance to ensure long-term reliability. In response, ROHM developed the SFR series featuring an original structure that significantly improves anti-sulfuration performance.
Key Features : Original structure improves sulfuration resistance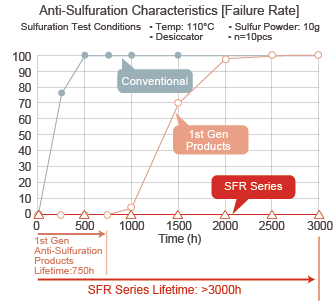 Sulfur components are present in the air in various forms due to sulfur and automotive gas emissions. The sulfur particles are adsorbed by metallic surfaces, gradually leading to sulfuration.
The SFR series significantly improves sulfuration performance by utilizing a Ni-Cr sputtered film at the side electrodes as well as adopting the protective layer used in the upper electrodes of 1st generation products. This contributes to greater safety while providing long-term reliability demanded by applications exposed to extreme environments, including automotive sets and industrial equipment.
Application Examples

Lineup
Part No.
Size
Rated
Power
(70°C)
(W)
Max
Element
Voltage
(V)
Temp.
Coefficient
of Resistance
(ppm /°C)
Resistance
Tolerance
(%)
Resitance
Range
Series
Operating
Temp
(°C)
Automotive
Grade
(AEC-Q200)
(mm)
(inch)
SFR01
1005
0402
0.063
50
+500 / -250
J (±5%)
1Ω ~ 9.1Ω
E24
-55 ~ +155
Yes
±200
10Ω ~ 10MΩ
±100
F (±1%)
10Ω ~ 2.2MΩ
E24, 96
(Jumper Type) Conduction Resistance : 50mΩ
Max., Rated Current : 1A
SFR03
1608
0603
0.1
50
±400
J (±5%)
1Ω ~ 9.1Ω
E24
±200
10Ω ~ 10MΩ
±100
F (±1%)
10Ω ~ 10MΩ
E24, 96
(Jumper Type) Conduction Resistance : 50mΩ
Max., Rated Current : 1A