EEPROMs for smart meters

Overview
Smart meters are key devices in the configuration of smart grids, which are quickly proliferating due to their greater energy savings, fixed fee setting capability, stable power supply, power theft countermeasures, and improved power selling functionality.
ROHM offers a variety of semiconductor products optimized for smart meters.
As the world's 3rd* largest supplier of high reliability EEPROMs, ROHM utilizes original double cell construction and double reset functionality that result in zero accidental failures.
Three series are available, based on bus type:
1) I2C bus, featuring low power consumption and high speed operation (BR25S Series: 8kbit-256kbit)
2) SPI bus (BR25S Series: 32kbit-2556kbit)
3) Microwire bus (BR93L Series: 1kbit-16kbit)
*January 2010 ROHM survey
Key Feature 1 : Failsafe double cell structure + Double reset function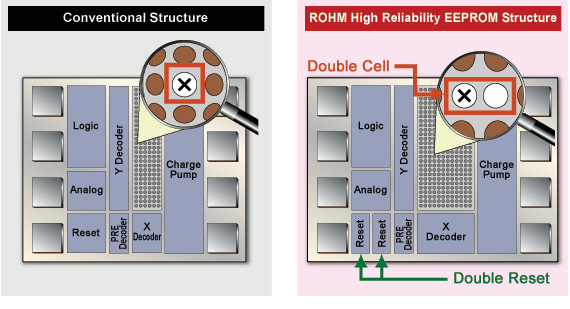 ■ Double Cell
Data is written to the EEPROM by passing electrons through a tunnel-oxide film. This process places a significant amount of stress on the film, which can lead to erosion and, subsequently, memory bit failures that can prevent data from being written to the cells.
To avoid this, ROHM utilizes a unique double-cell structure that allocates two cells for each bit of data. Therefore, if one cell malfunctions the other will automatically activate for seamless operation.
■ Double Reset
Typically, ICs are unstable during ON/OFF. Often, noise is generated, which can lead to microcontroller malfunctions. Opamps and general logic ICs can normally recover from malfunctions. EEPROMs, on the other hand, are highly susceptible to memory failure, even after one malfunction. ROHM EEPROMs resolve this problem by utilizing two protection circuits (power ON reset/undervoltage erroneous WRITE detection) that prevent malfunctions due to power failures and ON/OFF switching.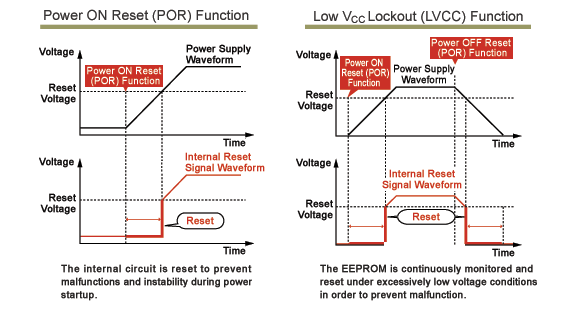 Key Feature 2 : Safe, uniform production
A streamlined, uniform manufacturing process, from wafer production to assembly, results in unsurpassed quality
In addition, wafer fabrication and package assembly locations are dispersed, hedging risk
Data writing services are also performed, and high reliability products are delivered with a short turnaround time
Lineup
■ I2C BUS BR24SSeries(8kbit to 256kbit)
100% compatible with the universally standard I2C bus. Complete control is possible using just 2 ports: Serial Clock (SCL) and Serial Data (SDA)
Devices other than EEPROMs can be connected to the same ports, making it possible to save microcontroller ports
1.7V to 5.5V single power supply operation
High-speed Page Write mode
Part No.
I/F
Capacity
(Bit)
Bit
Structure
(Word to Bit)
Operating
Voltage
Range
(V)
Operating
Temperature
Range
(ºC)
Write
Cycle
Time
(max.)(ms)
Rewrite
Frequency
(Times)
Data
Storage
(Year)
RoHS
Compliance

BR24S08

I2C BUS
8K
1K to 8
1.7 to 5.5
-40 to +85
5
106
40
Yes

BR24S16

I2C BUS
16K
2K to 8
1.7 to 5.5
-40 to +85
5
106
40
Yes

BR24S32

I2C BUS
32K
4K to 8
1.7 to 5.5
-40 to +85
5
106
40
Yes

BR24S64

I2C BUS
64K
8K to 8
1.7 to 5.5
-40 to +85
5
106
40
Yes

BR24S128

I2C BUS
128K
16384 to 8
1.7 to 5.5
-40 to +85
5
106
40
Yes

BR24S256

I2C BUS
256K
32768 to 8
1.7 to 5.5
-40 to +85
5
106
40
Yes
■ SPI BUS BR25SSeries(32kbit to 256kbit)
High-speed (20MHz max.) clock operation
Wait Function based on the Hold B terminal
Enables designation of certain blocks (or all blocks) for read only (ROM), preventing rewriting, depending on the program.
High-speed Page Write mode
Part No.
I/F
Capacity
(Bit)
Bit
Structure
(Word to Bit)
Operating
Voltage
Range
(V)
Operating
Temperature
Range
(ºC)
Write
Cycle
Time
(max.)
(ms)
Rewrite
Frequency
(Times)
Data Storage
(Year)
RoHS
Compliance
BR25S320
SPI BUS
32K
4K to 8
1.7 to 5.5
-40 to +85
5
106
40
Yes
BR25S640
SPI BUS
64K
8K to 8
1.7 to 5.5
-40 to +85
5
106
40
Yes
BR25S128
SPI BUS
128K
16384 to 8
1.7 to 5.5
-40 to +85
5
106
40
Yes
BR25S256
SPI BUS
256K
32768 to 8
1.7 to 5.5
-40 to +85
5
106
40
Yes
■ Microwire BUS BR93LSeries(1kbit to 16kbit)
3-line communication (Chip Select, Serial Clock, Serial Data) utilized for common input/output tasks.
Supports high-speed clock operation (2MHz max.)
High-speed writing (5ms max.)
Common package and pin layout (for 1kbit-16kbit products) ensure support for software modifications.
1.8V-5.5V single power supply operation
Part No.
I/F
Capacity (Bit)
Bit
Structure
(Word to Bit)
Operating
Voltage
Range
(V)
Operating
Temperature
Range
(ºC)
Write
Cycle
Time
(max.)
(ms)
Rewrite
Frequency
(Times)
Data
Storage
(Year)
RoHS
Compliance

BR93L46

Microwire BUS
1K
64 to 16
1.8 to 5.5
-40 to +85
5
106
40
Yes

BR93L56

Microwire BUS
2K
128 to 16
1.8 to 5.5
-40 to +85
5
106
40
Yes

BR93L66

Microwire BUS
4K
256 to 16
1.8 to 5.5
-40 to +85
5
106
40
Yes

BR93L76

Microwire BUS
8K
512 to 16
1.8 to 5.5
-40 to +85
5
106
40
Yes

BR93L86

Microwire BUS
16K
1K to 16
1.8 to 5.5
-40 to +85
5
106
40
Yes