IEEE802.11n-compatible Monolithic Baseband IC
2010-04-26
ROHM has recently announced the development of the BU1805GU, a one-chip wireless LAN baseband IC compatible with IEEE802.11n, the latest wireless LAN standard. BU1805GU represents the first IEEE802.11n baseband IC on which a TCP/IP protocol stack, WPS and WPA can be installed, simplifying configuration of a wireless LAN module – all that's required is an RFIC, oscillator, and antenna.
IEEE802.11 has quickly become the de facto global standard for wireless LAN. In February 2007, the IEEE802.11n standard was initiated, which specifies speeds of up to 600Mbps, expanding the scope of wireless LAN to include high-definition image transmission in home networks, robots used for industrial equipment, automatic production lines, and smaller-scale LANs utilizing mobile communication equipment.
Wireless LAN systems require a TCP/IP protocol stack, WPS and WPA. Conventional solutions typically do not integrate these into the baseband IC, making it necessary to perform processing on the host CPU side or via an application microcontroller inside the wireless LAN module. However, this requires modification of the overall system architecture and the host CPU (i.e. adjust power supply, increase memory), increasing design load and overall cost. In addition, developing TCP/IP protocol stacks, WPA and WPS internally requires significant expertise or licensing costs - major obstacles to incorporating network functions in household appliances and other non-PC applications.
In response to these shortcomings, ROHM utilized proprietary technologies to incorporate all of the necessary functions on a single chip, minimizing design load. ROHM's technology team provides full support, from integration of functions to verifying operation, enabling even customers with no prior experience with IEEE802.11n to incorporate the BU1805GU into their system. Evaluation boards and device drivers are also available for more experienced customers who require no additional support.
Pricing : 2,000yen (For sample shipments)
Availability : May 2010 (Samples), November 2010 (OEM quantities)
■Key Features:
IEEE802.11n-compliant (1×1, 20MHz)
TCP/IP protocol stack can be installed
Conforms with USB2.0, SDIO, SPI, UART protocols
Compact VBGA120T060 package (6mm×6mm×1.2mm)
■Wireless LAN Configuration Example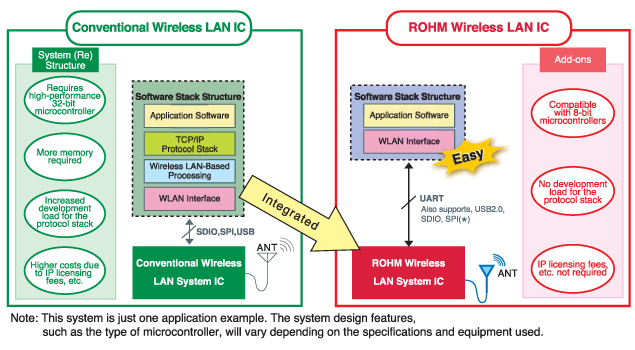 ■Terminology
Standard
Year Established
Frequency Band
Nominal Speed
Remarks (in Japan)
IEEE802.11
1997
2.4 to 2.5GHz
2Mbps
No license required
IEEE802.11b
1999
2.4 to 2.5GHz
11Mbps / 22Mbps
No license required
IEEE802.11a
1999
5.15 to 5.35GHz
5.47 to 5.725GHz
54Mbps
・5.15 to 5.35GHz:
No license required for indoors use
・5.47 to 5.725GHz:
No license required (both indoors and outdoors)
IEEE802.11g
2003
2.4 to 2.5GHz
54Mbps
No license required
IEEE802.11j
4.9 to 5.0GHz
5.03 to 5.091GHz
54Mbps
License required (except for certain terminals within given restrictions such as for power
IEEE802.11n
Draft2
2007
2.4 to 2.5GHz
5.15 to 5.35GHz
5.47 to 5.725GHz
600Mbps
IEEE802.11n
2009
2.4 to 2.5GHz
5.15 to 5.35GHz
5.47 to 5.725GHz
600Mbps
Wireless LAN
A LAN that transmits data wirelessly. In most cases, this refers to wireless networks based on the IEEE802.11 protocol. Every terminal requires a wireless LAN card. Two types of communication methods exist: 1) Infrastructure communication, which is conducted through relay equipment called 'access points', and 2) Ad hoc communication, where data transmission is performed directly between wireless LAN cards (without going through an access point).
IEEE802.11
This refers to a group of standards for wireless LAN established by the 802 committee of the IEEE (the Institute of Electrical and Electronics Engineers of the US). The first standard was created in 1997, with a transmission speed of 2Mbps. The latest protocol, IEEE802.11n, established in September 2009, specifies a transmission speed of 600Mbps.
TCP/IP protocol stack
Short for Transmission Control Protocol / Internet Protocol, this refers to protocols used for internet/intranet communication.
A protocol stack is a group of software in which multiple protocols are stacked in a hierarchical structure.
Protocol
A collection of mutually-determined rules that is used when different equipment communicate with each other through a network. Also referred to as a 'communication procedure' or 'communication protocol'.
Baseband IC
An IC that modulates signals for optimal communication and demodulates the communication signal to the original data signal.
WPA (Wi-Fi Protected Access)
Standards for wireless LAN encoding established by the Wi-Fi Alliance, an industrial association for wireless LAN.
WPS (Wi-Fi Protected Setup)
A function that facilitates connection and security settings for wireless LAN equipment. Established by the Wi-Fi Alliance.