ROHM LED Driver Targets Automotive Headlamp Cluster Functions
2010-10-19
LED driver suitable for high-beam, low-beam and daytime running light circuits; controls dimming without PWM input; provides range of protection functions; unique buck/boost topology more efficient and requires fewer external components.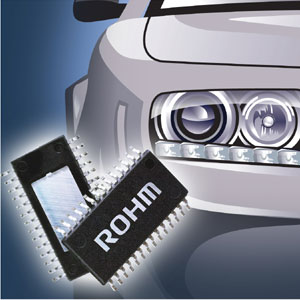 SAN DIEGO, Calif. – October 19, 2010 – ROHM Semiconductor announces the availability of the Model BD8381EFV-M high-brightness LED driver for automotive forward illumination applications. With this new flexible IC, designers can now specify the same driver for use in high-beam, low-beam and daytime running light (DRL) circuits.
The BD8381EFV-M current-mode buck/boost controller provides stable operation over a wide input voltage (5-30V) and removes constraints on the number of LEDs in series connection. Integrated protection monitors voltage, current and temperature. LED open and short circuit detection is also provided. The BD8381EFV-M has an internal PWM controller so dimming functions can be implemented with a simple external CR circuit. This same circuit can be implemented to limit output current in case of LED overtemperature detection.
Senior Design Engineering Manager for ROHM Semiconductor, Nick Ikuta, said, "Instead of having to select a different drive for each headlamp function, designers can now use one device. Because of its buck/boost configuration, it can handle series LED connections numbering from just one to several."
| | |
| --- | --- |
| Price : | US$8.00 (Small OEM Quantities) |
| Avaliability : | Samples by year-end, Mass Production April/May 2011 |
| Delivery : | 12 weeks ARO |
■More Information