ROHM Wireless LAN Modules with Integrated IEEE 802.11b/g/n Baseband Processor
2011-05-10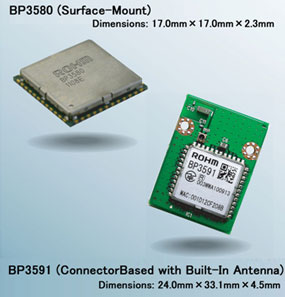 ROHM Co., Ltd., has recently announced the development of the BP3580 and BP3591 2.4 GHz wireless LAN modules that integrate ROHM's proprietary BU1805GU IEEE802.11b/g/n-compliant baseband/MAC IC optimized for embedded applications. The modules are fully tuned, RF properties, and incorporate not only basic wireless LAN communication functionality but also supplicant and Wi-Fi Protected Setup (WPS) features such as authentication and encryption that are typically only found on the host CPU. A TCP/IP protocol stack is also included that allows all network processing to be performed by the modules themselves, making it easy to add wireless LAN functionality - even to devices with previously insufficient host CPU resources such as household appliances and health & fitness products. The BP3580 is a surface-mount type while the BP3591 is connector-based with a built-in antenna. This integrated antenna eliminates the need for additional high-frequency designs by the customer and is certified under Japan's Radio Act, allowing the module to be embedded and used immediately.
Wireless LAN products, first adopted by the computer market, is seeing widespread use in a range of new applications such as smartphones, household electronics, and A/V devices, spurring demand. However, adding wireless LAN functionality using conventional wireless LAN modules is typically a time-consuming, cost-intensive development process. Development engineers are forced to provide some wireless LAN standard-compliant processing on the host CPU and author complex wireless LAN device drivers. At the same time, complex wireless technologies and procedures such as antenna design present major obstacles to introducing wireless LAN environments.
All ROHM modules are manufactured completely in-house using an integrated, streamlined process with ROHM-built equipment. This allows ROHM to offer unmatched support for both hardware and software. ROHM will continue to enhance product functionality by leveraging its ability to flexibly meet customer needs, for example by adding capabilities such as access point and Wi-Fi Direct functionality.
■ Key Features
IEEE 802.11b/g/n-compliant (20 MHz, 1 × 1)
Supports a variety of host interfaces (USB 2.0, SDIO, UART)
On-module support for all wireless LAN standard-compliant processing,
including WPA-PSK, WPA2-PSK, and WPS
Built-in TCP/IP protocol stack
Broad operating temperature range (-40ºC to 85ºC)
Single 3.3 V voltage drive
Diversity antenna support
Built-in antenna certified under Japan's Radio Act (BP3591)
■Software Stack Comparison
■Terminology
Protocol
A set of rules that allow devices to communicate via a network.
Wireless LAN
A LAN that sends and receives data wirelessly, particularly a network comprised of devices that comply with IEEE 802.11 standards. Each terminal must have a wireless LAN card. Capabilities include infrastructure communications via relay devices known as access points and ad hoc communications in which wireless LAN cards communicate directly with each other without using access points.
Firmware
Basic software for controlling an electronic device, stored in the device's nonvolatile memory. Recently, companies distribute firmware updates over the Internet to add new functions or fix bugs.