Sound Processor ICs for Car Audio
Overview
Car audio systems require high fidelity. ROHM Ics offer a wide dynamic range, low distortion, and low noise, making them ideal for a wide variety of car audio systems.
ROHM utilizes analog technologies for the lowest noise and distortion on the market. The BD375 series is comprised of 18 models in different input/output channels and tuning functions for compatibility with different audio sources, cabin interiors, entertainment systems, and customer preferences. In addition, original advanced switching technology is employed to minimize shock noise during volume switching, ensuring high fidelity operation.

Features
Advanced switching technology utilized to minimize shock noise during volume/tone/fader adjustment.
No external parts required. Microcontroller-controlled 2-/3-band equalizer built in
Internal loudness function enables audio adjustment based on cabin characteristics.
Integrated subwoofer LPF
Ground isolation amp input built in for high common mode rejection ratio: 65dB (typ.)
Total harmonic distortion: 0.001% typ.
System Block Diagram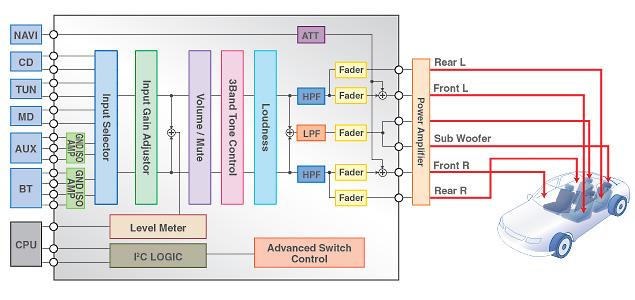 Lineup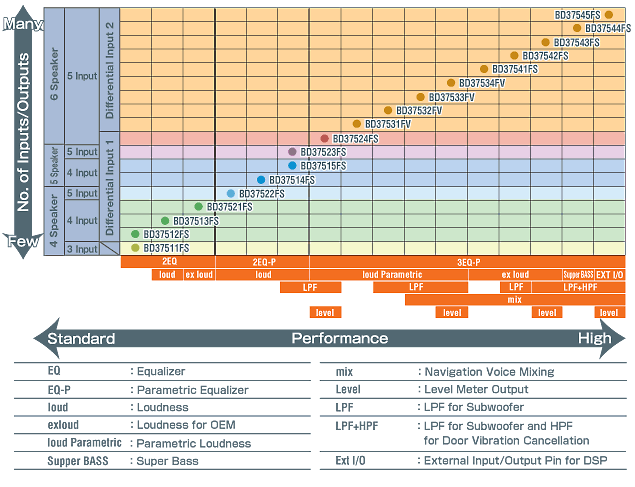 Key Feature 1 : Advanced switching technology eliminates shock noise for high fidelity adjustment
With conventional volume technology the signal waveform becomes momentarily disconnected during adjustment, resulting in shock noise. (Refer to the blue line in the figure at right)
ROHM's advanced switching technology eliminates these instantaneous disconnections, smoothing out the signal waveform during adjustment for virtually no shock noise. (Refer to the red line in the figure at right)
The BD375 series utilizes proprietary switching technology not only for volume, but for input gain adjustment, tone control, and loudness switching as well.
Key Feature 2 : Ultra-low loss and distortion for high fidelity audio
The development of high performance internal elements circuitry results in low noise, low distortion sound processors (3.8uVrms slew noise at 0dB input/output gain and 0.001% distortion at 1Vrms input). This ensures high fidelity audio reproduction in automotive systems.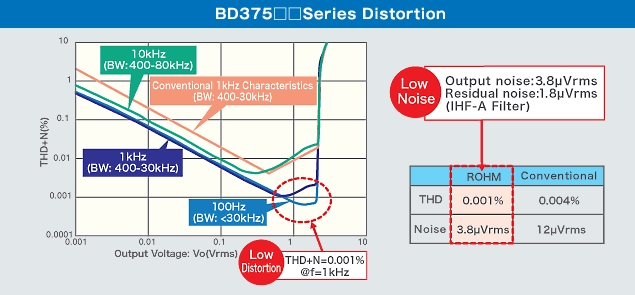 Key Feature 3 : Integrated 2-/3-band parametric equalizer
| | |
| --- | --- |
| Until now changing the gain of the equalizer and the target frequency required modification of the external components. ROHM's novel circuit design with integrated programmable parametric equalizer enables the target frequency (fo), equalizer gain, and Q Curve to be controlled via microcontroller without the need for external parts/modifications. | |
Key Feature 4 : New parametric equalizer for loudness
Vehicles come in all types of shapes and sizes. In order to create a realistic sound stage with high fidelity audio bass correction (utilizing LPF, HPF, and loudness, for example) is required.
ROHM has developed a parametric-type loudness function for low-end (bass) correction compatible with vehicles of all types. Control is enabled using a microcontroller via I2C bus. In addition, the target frequency and high-end gain can be freely adjusted, making bass correction possible without requiring external components.
Lineup
Sound Processors with Built-In 2-Band Equalizer
Part No.

Power
Supply
Voltage
(V)
Current
Consumption
(mA)
No. of Input
Selectors
Input
Gain (dB)
Volume
(dB)

Fader (dB)

Para-metric
EQ

Loudness

LPF for
Subwoofer
Output
Noise
(µVrms)
Maximum
Output
(Vms)
Distor-tion
(%)

Package

No. of
Outputs

Single

ISO

7511FS

7.0
to
9.5

15

3

0

0
to
+20
0
to
-40
0
to
-62,
∞

4

-

-

-

6

2.3

0.005

SSOP-
A20

BD37512FS

1

BD37513FS

38

+15
to
-79,
∞
0
to
-79,
∞

○

3.8

0.001

BD37514FS

5

○

BD37515FS

+15
to
-79,
∞

○

○

BD37521FS

0
to
-79,
∞

4

-

EXT

-

SSOP-
A24

BD37522FS

4

○

○

BD37523FS

+15
to
-79,
∞

5

○
Sound Processors with Built-In 3-Band Equalizer
Part No.

Power
Supply
Voltage
(V)
Current
Consum
ption
(mA)
No. of
Input
Selectors
Input
Gain
(dB)
Vol-
ume
(dB)
Fader
(dB)
Para-metric
EQ
L
o
u
d
n
e
s
s
LPF for
Sub-woofer

Mixing

L
e
v
e
l

M
e
t
e
r
O
p
t
i
o
n
s
Output
Noise
(µVrms)
Maximum
Output
(Vms)
Distor-
tion (%)
Pack-
age

Single

I
S
O
No. of
Out-puts
A
T
T

BD37524FS

7.0
to
9.5

38

4

1

0
to
+20
+15
to
-79,
∞
+15
to
-79,
∞

6

○

○

LPF

-

-

○

-

3.8

2.3

0.001

SSOP- A24

BD37531FV

2/3/5

3/2/1

-

-

SSOP- B28

BD37532FV

LPF

BD37533FV

○

BD37534FV

○

BD37541FS

EXT

-

-

-

SSOP-
A32

BD37542FS

LPF

○

BD37543FS

LPF
+
HPF

○

BD37544FS

1/3/4

-

-

Super
Bass

BD37545FS

2/3/5

○

Ext.
I/O
*The input selector (i.e. 2/3/5 and 3/2/1) indicates the possible recombinant single and ISO inputs