TCT Series of bottom electrode tantalum capacitors

Overview
The increasingly higher performance and greater miniaturization of portable electronic equipment such as smart phones and electronic dictionaries demand thinner, more compact components. To meet these demands, ROHM offers the TCT Series of tantalum capacitors that utilize a special bottom electrode configuration for larger capacitance in a smaller, lower profile form factor. 7 package types are available, from the (0402in) U Case with a maximum capacitance of 470µF to the larger (2412in) CL Case.
In addition, ROHM's tantalum capacitors are strong against board stresses (i.e. flexing) and feature stable capacitance characteristics, making them the ideal replacement for ceramic capacitors.
Key Feature 1 : Large capacitance in a compact, low-profile package
Compact, large capacitance

The bottom electrode design makes a larger capacitance possible in a smaller form factor (vs. conventional types)
Low-Profile Lineup (t=1mm max.)
The PL Case (Low-profile 0805in) and AS Case (Low-profile 1206in) feature a height of only 0.9mm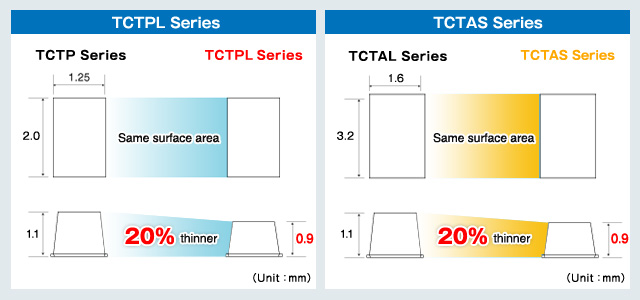 Key Feature 2 : Bottom electrode structure
Ceramic capacitors feature 5 electrode surfaces, increasing the possibility of short-circuits between the board wiring and electrodes. In order to prevent this a certain amount of space is required between the top and bottom of the board. In contrast, ROHM's tantalum capacitors feature a bottom electrode configuration that eliminates short-circuits and the need for spacing required by ceramic capacitors - contributing to thinner sets.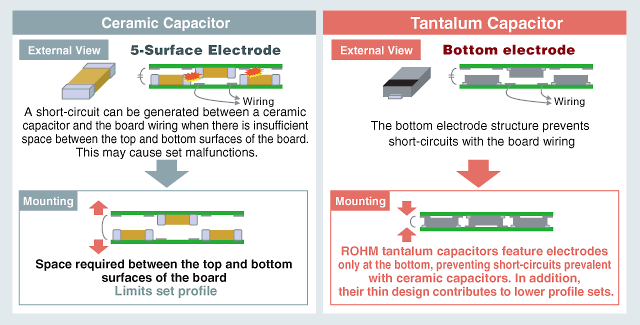 Key Feature 3 : Strong against board stress
ROHM tantalum capacitors are more than 4 times stronger against board stress (flexing) than ceramic capacitors, making it possible to mount in areas subjected to excessive board flex.
This not only increases design freedom, but ensures smooth operation during the manufacturing phase while contributing to greater compactness and reduced costs.
Key Feature 4 : Stable capacitance characteristics
ROHM tantalum capacitors feature stable capacitance even during temperature or voltage changes.

Applications
Mobile phones, smart phones, electronic dictionaries, digital cameras, digital video cameras, portable audio, handheld gaming equipment, and more

Lineup