Ultra-Compact 1006 Size (0402in) PICOLED™ Series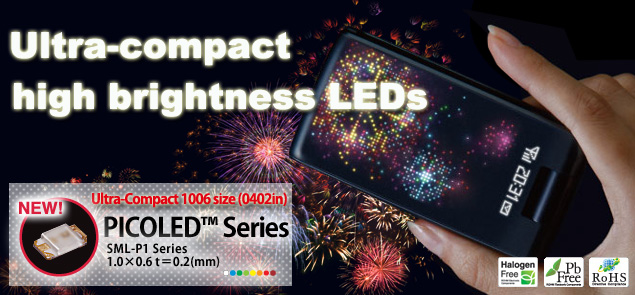 Overview
Original high brightness device technology, combined with ultra-fine process technology, are utilized to develop 0.2mm thin LEDs with no brightness degradation (compared to conventional products) - an unprecedented achievement.
Their small size makes them ideal for use in high resolution, high density matrix applications seeking a high degree of expressiveness, such as mobile phone displays.

In addition, high reliability is ensured, with no deterioration in brightness, even after 10,000 hours*.

*Utilizing a high-reliability 4-element (AlInGaP) structure (excluding blue and white LEDs)
Key Feature 1 : 53% smaller mounting area
| | |
| --- | --- |
| The ultra-compact form factor cuts mounting area by 53% over conventional 1608 (0603in) size LEDs while maintaining the same brightness. | |
Key Feature 2 : High density mounting possible for high resolution displays
| | |
| --- | --- |
| When used for dot matrix displays, the 1.5mm pitch makes high density mounting possible for greater resolution than conventional 1608 (0603in) size products. | |
Other PICOLED™ Series
| | |
| --- | --- |
| | High brightness white PICOLED™ |
■1006 (0402in) size, high-brightness white LED
ROHM now offers the SMLP12WBC8W high brightness white LEDs in the 1006 size (0402in). This new LED utilizes advanced packaging and device technologies to provide twice the brightness compared with ROHM's conventional white PICOLED (SMLP12WBC7W).
■Electrical Characteristics
Part No.
Forward Current
IF(mA)
Forward voltage
VF(V)
Light Emission Luminosity
IV(mcd)
Chromaticity (x,y)

SMLP13WBC8W

5
2.9
150
(0.30,0.30)
Energy-saving PICOLED™ : PICOLED™ - eco

ROHM's energy-saving lineup of PICOLED™ LEDs, PICOLED™ -eco, not only features less volume and mass than conventional products, power consumption is greatly reduced while still maintaining brightness and wavelength characteristics.
In addition, multiple advanced device technologies are utilized to provide 2.7 times the brightness and 37% less power consumption in the low-current region (1mA), resulting in the brightest, most efficient LEDs in their class.

[Features]

2.7 times brighter at 1mA
Contributes to less power consumption in portable devices for longer battery life
Compact, ultra-thin size: 1.0×0.6mm, t=0.2mm
Available in a variety of colors: red, orange, yellow, and green
The industry's smallest, thinnest multi-color LEDs: PICOLED™ - Duo and PICOLED™ - RGB
Side-view LEDs : PICOLED™-Side

The ultra-low profile (0.2mm) PICOLED™-Side series supports a variety of applications, including keypad backlights in smartphones and sets requiring low profile, high density mounting.
Applications
Smartphones/mobile phones, digital cameras, IC recorders, portable audio players, notebook PCs, battery-driven devices, compact mobile equipment,and other compact equipment