"Social Device" Special Interview The contents were published on "Technology Online", the engineering information website
run by Nikkei Business Publications, Inc., and reprinted with the author's permission.

Attaining the sustainable society,which will require minimizing consumption and simultaneouslypursue efficiency in every process, is one of the major challenges faced by the world today. But how can electronic devices and mechatronics technology help make it possible? Katsumi Azuma, Director & General Manager, Discrete & Module Production Headquarters at ROHM, a pioneer in next-generation power electronics, discussed the issue with Konosuke Noda,Corporate Vice President, General Manager of Corporate Research & Development Center at Yaskawa Electric Corp, which is involved in finding solutions to problems including energy and the rising average age of the Japanese populace through mechatronics and power conversion technology.
Noda

Konosuke Noda

In 2000, Yaskawa Electric formulated its corporate vision for the year 2015, which is the 100th anniversary of the company. The plan laid out the corporate approach to resolving a variety of issues now affecting society on the global scale, including rising average age, dropping birthrate, and energy. In particular, it called for the company to expand its operations in two key fields, robotics human assist and environmental energy, applying its core technologies to help resolve social problems in these fields.

Azuma

ROHM has had a strong corporate credo of contribution to society since it was established in 1958. The corporate philosophy guiding our operations since foundation calls for the positioning of quality as the top priority, and contribution to cultural progress through the continuing, high-volume supply of quality products.

ROHM began as a manufacturer of resistors, but today it is active in a diverse range of sectors, including next-gen product and business development, supported by four main strategies: power devices, optical devices, LSI synergy, and sensor networks. New products embody key features such as energy efficiency, compactness, safety, and comfort, and we consider it our mission to continue to supply these products to the market.
Contributing to society through core technologies
Azuma

Could you tell us a little more about the new business sectors you just mentioned?

Noda

The robotics human assist business domain is based on our industrial robot technology, and is working to develop robots that can coexist with people, work in close proximity to them, and assist them in many ways. We hope to develop a market for robots working near human beings, and at present are concentrating on assist robots for rehabilitation and long-term health care, and in the biomedical field (Fig. 1).

In the environmental energy business domain we are developing power conversion systems to promote the effective utilization of renewable energies such as wind or solar power, as well as helping to reduce energy consumption. In addition, we are also involved in the development of drive systems for electric vehicles (EV), which are expected to contribute significantly to the solution of environmental problems when they achieve widespread adoption.

The core technologies supporting these two new business domains are servos, controllers, and inverters, all developed through long years of work in the industrial equipment field.

Fig. 1 Robot for the biomedical field

Azuma

ROHM provides a number of semiconductor products, and by developing the products equipment manufacturers need in advance, we are contributing to reductions in energy consumption, equipment size, and resource consumption in many sectors.

We are actively involved in developing products absolutely essential in making electronic equipment smaller. Under our RASMID™ brand name, we manufacture a variety of components with the smallest dimensions in the world, made possible through ROHM's proprietary technology, such as 0.4mmx0.2mm chip Schottky barrier diodes and 0.3mmx0.15mm chip resistors. These tiny devices help make it possible to shrink end-use equipment, improving user convenience and reducing overall resource consumption.

We also lead the world industry in next-gen power semiconductors, made of silicon carbide (SiC), and MOSFET and full-SiC power modules (Fig. 2). Compared to conventional power silicon (Si) power semiconductors, these devices exhibit very low electrical losses in operation. In other words, they achieve a dramatic reduction in power consumption during operation. SiC is also very heat resistant, eliminating the need for thermal insulation in many cases to simplify equipment design.

Fig. 2 Power semiconductors made with next-gen materials
Accelerating the adoption of advanced technology
Noda

In assist robots, it is important to make them small and light. This not only expands the range of possible applications, but also reduces the amount of resources consumed.

Society today recognizes that reducing consumption of resources and energy is crucial, and the events of the Great East Japan Earthquake have driven home the lesson. Resource consumption is a major issue in the other new business domain as well: environmental energy. In that domain we are applying the high-efficiency technology and experience gained in the development of motor drivers.

Azuma

Katsumi Azuma

There is a considerable amount of work left to do in improving efficiency. The efficiency of the light-emitting diodes (LED) used for illumination, although they do contribute to saving energy, is still quite low. Improved emission efficiency would mean enormous energy savings.

DC-DC converters and other power supplies come in a wide range of specifications for various applications, and some have already surpassed 90% conversion efficiency. Unfortunately, there are still many with far lower efficiencies, and if their characteristics can be improved it would contribute significantly to lowering the power consumption of society overall. The SiC next-gen power semiconductors we are developing will be crucial in making this possible.

Equipment with power semiconductors made with next-gen materials is more expensive today than equipment made with conventional Si-based power semiconductors, so SiC adoption is still relatively limited. As prices drop, though, there is no question that SiC applications will expand. ROHM is involved in R&D to improve the efficiency of next-gen power semiconductors, including the manufacture of larger-diameter wafers, and we believe that these next-gen power semiconductors will experience explosive growth in the near future.

Noda

When new technology is introduced, it is always expensive. If applications can be found where that new technology is essential, though, users will buy it even if it costs a little more. If such an application can be found, it might be possible to develop the market earlier.

Yaskawa Electric has experienced this a number of times. We entered the industrial robot market with motor-driven designs, at a time when almost all the other products on the market were hydraulic. Hydraulic equipment requires complex tubing, and the hydraulic fluid always makes quite a mess in the area. Motorized designs avoid those problems, and are clearly superior, but we had trouble boosting sales volume because of poor control precision and high price. That all changed with the introduction of our arc welding robot for automotive components. Full-fledged adoption of motorized robots began there, because they offered a number of clear advantages, and that really expanded the entire motor-driven robot market.
Manufacturer tie-ups with users accelerate adoption
Azuma

The same thing may happen with next-gen power semiconductors. Many engineers already recognize the superior characteristics of next-gen power semiconductors, and the market will certainly grow if we can develop an application where they are required even at a higher cost. Increased demand and higher production will drop the product price, through mass production effects, and that in turn should spur additional demand.

Noda

From the user's point of view, Yaskawa Electric is also involved in research into next-gen power semiconductors using materials such as SiC and GaN. In the environmental energy business domain, for example, we are improving the efficiency of power conditioners used in renewable energy generating systems, and motor drive systems. We are working on high-efficiency drive systems for EVs, and next-gen power semiconductors are key devices in attaining those goals. In 2011 we developed the SiC-QMET high-efficiency motor drive system for electric vehicles, the first in the industry to use SiC devices.

Instead of passively receiving information from device suppliers, we believe it is crucial to share information on issues with them, and work together to find solutions that make the best use of advanced device characteristics. That's why we are committed to improving our device technology, and gaining expertise in the field.

Azuma

ROHM R&D is pursuing even higher device performance, such as power semiconductors with higher efficiency in smaller packages. The product development teams are working to find ways of putting next-gen semiconductors to work helping to solve society's problems. For example, one project is eliminating waste and streamlining every step of our production process.

Recently we brought together people from R&D, LSI chip product development, and power semiconductors to create a new department developing intelligent power modules. With modularized power semiconductors and drivers, it will be possible to more efficiently develop circuits using new devices for our customers. We hope that the semiconductor devices from these programs will provide more opportunities for us to help resolve social problems.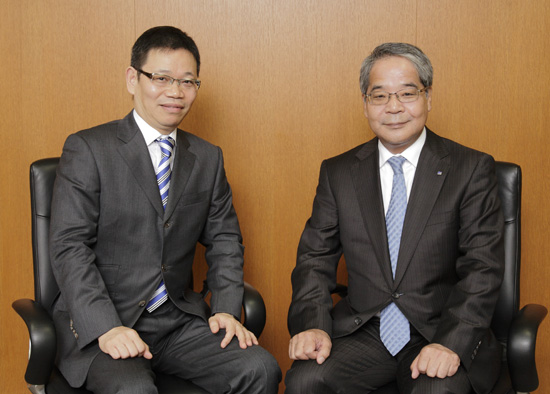 The New Society Shaped by Advanced Technology
2015
Creating the Society of Tomorrow
The Technology Revolution
2014
The Technology Creating Tomorrow's World
2013