Ambient Light and Proximity Sensor ICs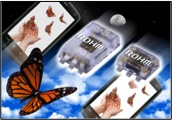 ROHM ambient light sensor (ALS) ICs are designed to control the brightness of LED backlighted LCD displays, or LED lighting based on ambient light availability and brightness for optimum visibility and energy saving.
Analog and digital (I2C) output
Very wide range and High resolution ( 0.008 - 65535 lx ) [BH1730]
Low Current by power down function
50Hz / 60Hz light noise reject-function
Small measurement variation (±15%) [BH1730]
Proximity detection option [BH1772]
View complete Ambient Light and Proximity Sensor line-up
Hall Sensor ICs
ROHM's ultra-compact Hall ICs feature high sensitivity contactless magnetic field detection as well as positional detection on a single chip. The line-up inclludes 3 types of Hall ICs based on the detection method and type of output (bipolar, polarity discrimination, monopolar)
Ultra small packages
High ESD resistance 8kV
Low Power intermediate operation
CMOS output
View complete Hall Sensor line-up
Temperature Sensor ICs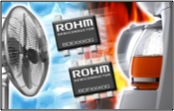 ROHM's temperature sensor ICs feature a high accuracy reference voltage supply, comparator, constant current circuit, and a temperature detection element into a single chip, eliminating troublesome circuit design. Temperature detection capability is enabled by simply connecting the IC to the set substrate, saving space.
Analog Output Type with ±2.0°C accuracy
Standard Thermostat Type [BDExxx ] covers range from -20°C to 120°C
Low Power Thermostat Type [BDJxxx] covers range from 55°C to 90°C
View complete Temperature Sensor line-up
Touch Sensors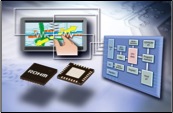 ROHM touch screen controller detect the input of the touch sensor arranged on the LCD screen or dedicated butttons. These touch sensors allow the easy implementation of intuitive input operation. ROHM's touch screen controllers are available for 4wire resistive touch sensor and capacitive touch sensor.
Enabling 2 point detection on 4 wire resistive touch screens
Implement gesture recognition on 4 wire resistive touch screens
Capacitive touch solutions for up-to 36 switches [BU21078]
View complete Resistive Touch Screen Controller line-up
View complete Capacitive Touch Controller line-up
IR and Optical Sensor ICs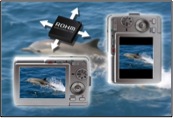 ROHM offers a wide selection of optical components including discrete components like photo transistors and IR-LEDs as well as integrated modules such as IrDA, remote control modules, tilt sensors and photo-interrupters. Compared to RF solutions IR based communication offeres avantages like high level of sequrity,more design freedom ( compatibility for future redesigning of set ) which makes them interesting for a wide range of applications.
Ultra-low power consumption
Broad line-up
Small package options
View complete Surface Mount Remote Control Receiver Modules line-up
View complete Lead Frame Remote Control Receiver Modules line-up
View complete IrDA Infrared Communication Modules line-up
View complete Transmission Type Photo-Interrupters line-up
View complete Infrared Light Emitting Diodes line-up
View complete Photo Transistor line-up
View complete Tilt Sensor line-up