Product announcement on 1608-size high brightness single-rank chip LEDs (SML-D15 series)

Overview
In automotive applications such as car audio and navigation systems, it is common to specify a particular brightness rank in order to suppress brightness variations.
ROHM developed the SML-D15 series using advanced original process technology that enables stable production of single rank products, ensuring minimal brightness variations in end applications.
SML-D15 Series Line up
Part No.
Absolute Maximum Ratings
Electrical-Optical Characteristics
Permissible Loss
P

D


(mW)
Forward Current
I

F


(mA)
Peak Forward Current
I

FP

(mA)
<at Duty1/10,
1kHz>
Reverse Voltage
V

R

(V)
Operating Temp.
Topr
(℃)
Storage Temp.
Tstg
(℃)
Forward Voltage
V

F

Reverse Current
I

R

Dominant Wavelength
λ

D

※1


Brightness Iv
Typ.
(V)
I

F


(mA)
Max.
(µA)
V
(V)
Typ.
(nm)
I

F


(mA)
Min.
(mcd)
Max.
(mcd)
I

F


(mA)

■

SML-D15VW
84
35
100
5
-40 to
+100
-40 to
+100
2.0
20
10
5
630
20
71
112
20

■

SML-D15UW
620
90
140

■

SML-D15U2W
615
112
180

■

SML-D15DW
605
180
280

■

SML-D15YW
87
2.1
590

■

SML-D15MW
571
56
90
*1 : Measurement tolerance ±10%
Features
■Single brightness rank offered
Conventionally, 4 different ranks are provided for each specified brightness level due to inherent limitations in the manufacturing process. However, ROHM has successfully achieved stable brightness through a comprehensive, integrated production system (from the chip manufacturing stage). This makes it possible to supply high brightness single-rank LEDs that reduce brightness variations by 3/4, ensuring consistent, stable performance in a variety of applications.
■2-3x brighter than conventional products (SML-D12x8W)
Complete redesign and optimization of the LED element have enabled the brightness to be increased by up to 3 times compared with conventional LEDs, delivering industry-leading brightness in the 1608 size (1.6x0.8mm).
【Brightness Range IF=20mA】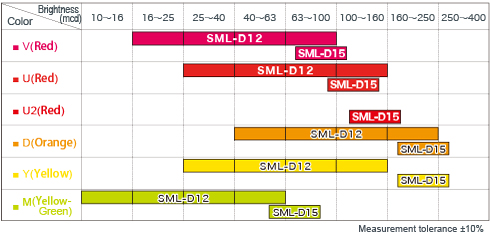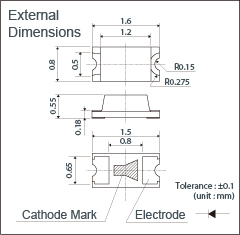 ■1608-size package
Offered in the popular 1.6mm × 0.8mm package size with a thickness of only t=0.55mm.
■AEC-Q101 (automotive reliability standard) qualified
Related Information
■ News
New 1608-Sized High Brightness Single Rank Chip LEDs
■ New Product Bulletin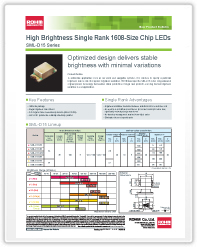 High Brightness Single Rank 1608-Size Chip LEDs
SML-D15 Series

(161KB)
In addition to these high brightness single-rank 1608-size chip LEDs, ROHM implements product development utilizing original technologies to expand its product lines and offer optimized solutions that meet both market and customer needs.