LED driver ICs for automotive rear lamps

Overview
Automotive rear lamps are increasingly being configured with LEDs due to their longer life and lower power consumption. However, this has previously been difficult to achieve the level of reliability (including failsafe functionality and protection circuitry) and current accuracy required by automotive systems.
In response to this ROHM has developed the industry's first source drivers designed specifically for rear lamp applications. Multiple protection circuits are built in, along with high accuracy constant current blocks that minimize intensity variation. An early warning function is also included for greater safety and peace of mind.
Key Features
1ch source driver : Enables connection of 3 or 4 LEDs
200mA high current output
High-accuracy LED current output to within ±3%
Separate high / low LED current modes
Built-in LED open / short protection
Built-in unique P-Bus (Protect-Bus) function

Demo board with
five BD8372HFP-M mounted
Key Feature 1 : High accuracy (±3%) LED current control eliminates brightness variations.
Rear lamps require high-performance lights with no intensity variations, which depend on the tolerances of the LEDs and LED driver circuit. Discrete configuations consist of multiple parts that increase the amount of variation significantly, requiring sorting during production.
In contrast, ROHM's monolithic dedicated IC solutions integrate a high-performance constant current circuit featuring an industry-leading current accuracy of ±3%that, reduces manufacturing load.
Key Feature 2 : Proprietary P-Bus (Protect-Bus) function built in
Although rear lamps come in many different configurations, most use around 20 LEDs. Since BD8372HFP-M and BD8372EFV-M can only drive 3-4 LEDs, multiple drivers are required. In these cases there is a risk of a single channel failing due to LED open and/or short-circuits. In order to ensure that all LEDs are turned OFF simultaneously in the event of failure (as an early warning to the driver for increased safety), ROHM integrates a unique P-BUS function that communicates with the other drivers when an abnormality is detected and turns OFF all LED lamps.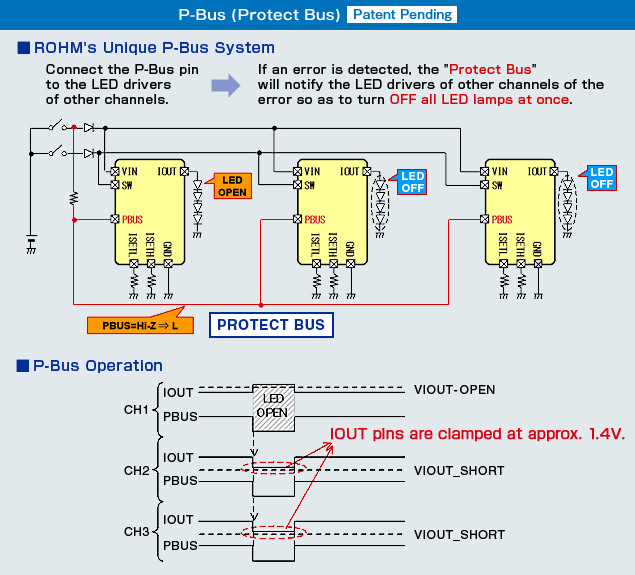 Key Feature 3 : Independent current settings for tail lamps and stop lamps
| | |
| --- | --- |
| Rear lamps are designed to change in intensity during driving and braking operations. ROHM LED drivers for rear lamps feature a 2-stage current switching circuit for different current levels, depending on operation. In addition, with conventional LED drivers the current levels for tail lamp and stop lamp operation are fixed. ROHM, however, allows flexible adjustment of the light intensity based on requirements, facilitating design. | |
Key Feature 4 : LED open/short protection included
| | |
| --- | --- |
| There is a possibility during driving that the LED board may become short-circuited or disconnected due to vibration. In order to prevent this ROHM integrates voltage and current monitoring circuits that will cut off LED current and notify the ECU of any abnormalities. | |
Lineup
Part No.
No. of
Channels
Maximum Output
Current
Dimming Mode
Output Breakdown
Voltage
Package
BD8372HFP-M
1ch
200mA
High Current /
Low Current
50V
HRP7
BD8372EFJ-M
1ch
200mA
High Current /
Low Current
50V
HTSOP-J8