Low power headphone amp
Overview
Compact portable equipment put to continuous use, such as IC recorders, electronic dictionaries, and portable audio players, require longer operating times from a single battery.
To meet this need ROHM offers the BU7150NUV headphone amp capable of operation from only 0.93V.

Key Features

Wide operating power supply voltage range
(0.93V to 3.5V, Ta=0ºC to 85ºC)
(1.03V to 3.5V, Ta=-40ºC to 85ºC)
Selectable modes: BTL for monaural speakers,
single-end stereo headphone
Unity gain results in stable operation
Clicking/popping noise reduction circuit built in
Shutdown mode (low power consumption mode)

Built-in mute function (high-speed turn ON upon mute release)
Integrated thermal shutdown circuit
Power ON reset circuit not affected by the supply voltage startup slew rate
Compact package
Key Feature 1: Wide operating voltage range (0.93V to 3.5V)
enables operation from one or two batteries
The wide operating voltage range supports operation from one or two batteries. In addition, BTL connection allows the BU7150NUV to be used as a high-output monaural speaker amp. Additional features include an automatic startup sequence control circuit, power ON reset function, and clicking/popping noise reduction circuit for high-performance operation.
Key Feature 2: Low voltage, low current (1mA) operation results in longer battery life
The BU7150NUV features low 1mA current consumption and a wide voltage range (0.93V to 3.5V). When operating from a single battery, conventional headphone amps require a step-up circuit, which increases power consumption as well as loss (through step-up operation). In contrast, the BU7150NUV eliminates the need for a step-up circuit, reducing power consumption for longer battery life.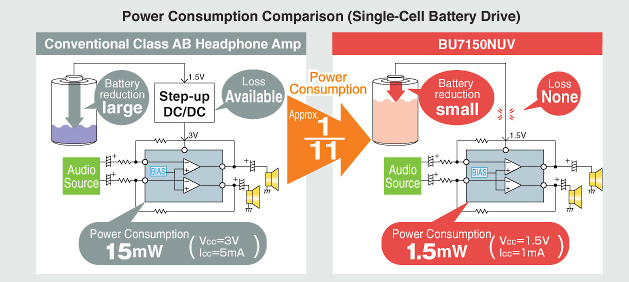 | | | |
| --- | --- | --- |
| | Conventional Class AB Amp | BU7150NUV |
| Supply Voltage (typ) | 3V | 1.5V |
| No-Signal Current | 5.0mA | 1.0mA |
| Power Consumption | 15.0mW | 1.5mW |
| DC/DC Efficiency | 90% | - |
| Total Power Consumption | 16.7mW | 1.5mW |
Key Feature 3: Built-in startup sequence circuit reduces load and controls clicking noise
A startup sequence circuit is built in to ensure high fidelity audio output during ON/OFF operation. Clicking/popping noise reduction is automatically performed, elminating the need for microcontroller control. In addition, the power ON reset function is not dependent on the supply voltage startup slew rate, simplifying use considerably.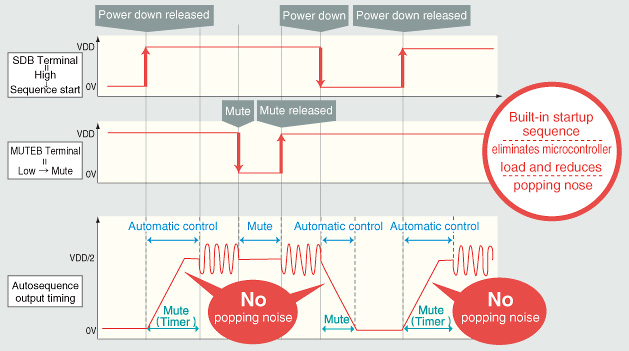 Lineup
Part No.
Power
Supply
Voltage
(V)
No-Signal
Circuit
Current
(mA)
Max.
Output
Power
(mW)
Harmonic
distortion
(%)
Output
noise
voltage
(Vrms)
Package
RL=8BTL
RL=16SE
RL=8BTL
RL=16SE

BU7150NUV

0.93
to
3.5
1.0
85 (VDD
=1.5V)
14 (VDD
=1.5V)
0.2
(25mW)
0.1
(5mW)
10
VSON010V3030
3mm × 3mm
H=1.0mmMax.