bd9x-series
BD9x-Produktreihe von DC-DC-Abwärtswandlern
Produktübersicht
ROHM hat die BD9x-Produktreihe von DC-DC-Abwärtswandlern entwickelt, um auf die verschiedenen Anforderungen an DC-DC-Wandler einzugehen. Über die Matrix von Eingangsspannung und Ausgangsstrom können Benutzer einfach die Energieversorgungslösung finden, die ideal zu ihren Anforderungen passt. Das optimale Produkt kann auch basierend auf einer Hochgeschwindigkeits-Ansprechüberwachung, einem Modus für geringe Last oder anhand anderer Eigenschaften ausgewählt werden.
Musterprodukte können gemeinsam mit Evaluationsplatinen, mit denen Sie den Betrieb sofort überprüfen können, über autorisierte Onlinehändler erworben werden.
Laden Sie verschiedenste technische Dokumente herunter (z. B. den Auswahlleitfaden)
Wählen Sie anhand der Anforderungen in der Matrix von Eingangsspannung und Ausgangsstrom die ideale Energieversorgungslösung aus.
Merkmale
The BD9x series is comprised of a range of models to meet customer needs.
[Synchronous/Asynchronous Rectification]
In addition to the standard asynchronous rectification method it is possible to eliminate the external diode, and multiple high efficiency synchronous rectification types are available that cover the entire voltage range.
[Fast Transient Reponse Control Method]
Current-mode operation offers faster transient response characteristics than conventional voltage-mode control. In addition, phase compensation can easily be set and output ripple further reduced. The lineup also includes models that utilize hysteresis control to provide faster transient response than current mode and that do not require phase compensation.
[Improved Efficiency at Light Loads]
Light load mode reduces the operating current when the load current decreases and the switching frequency remains low, improving efficiency. And the switching frequency will vary depending on the load current, making it important to take the internal signal interference into consideration.
[Thin, Compact Package with Superior Heat Dissipation]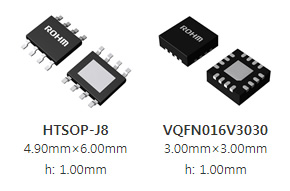 An exposed pad enables high efficiency heat dissipation from the backside of the package to the PCB, making it possible to achieve a 6A DC-DC solution in a compact form factor.
[Support for Small Lots]
Part numbers ending with -LB are designed for industrial equipment requiring long-term supply and superior reliability. They are available in smaller reels in order to eliminate waste and excess inventory during smaller production runs.
ROHM entwickelt mithilfe der neuesten Technologien Produkte und Lösungen, die für Nutzer- und Marktbedürfnisse optimiert sind.