Produktdetails
Spezifikationen:
Drain-source Voltage[V]
1700
Drain-source On-state Resistance(Typ.)[mΩ]
1150.0
Total Power Dissipation[W]
35
Junction Temperature(Max.)[°C]
175
Storage Temperature (Min.)[°C]
-55
Storage Temperature (Max.)[°C]
175
Package Size [mm]
16x21 (t=5.2)
Eigenschaften:
Low on-resistance
Fast switching speed
Long creepage distance
Simple to drive
Pb-free lead plating; RoHS compliant
Unterstützende Informationen
Übersicht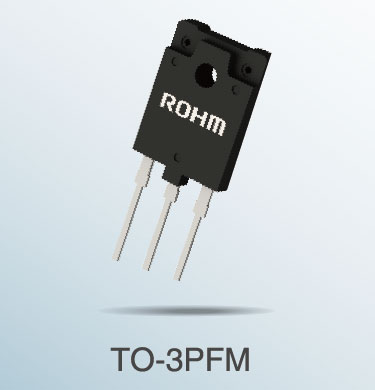 SiC rückt dank seiner überlegenen Materialeigenschaften gegenüber Silizium als ein Verbindungshalbleiter der nächsten Generation in den Fokus des Interesses.
Bei Hilfsstromversorgungen, die in Hochspannungs- und Hochleistungsindustrieanlagen Einsatz finden, werden in der Regel Silizium-Metalloxidhalbleiter-Feldeffekttransistoren (MOSFET) mit Hochspannung (>1000V) verwendet. Durch ihren Austausch durch SiC-Metalloxidhalbleiter-Feldeffekttransistoren kann die Wärmeerzeugung erheblich reduziert werden, wodurch Außenteile wie Kühlkörper überflüssig werden.
ROHM hat vor kurzem seine beachtliche Produktpalette erweitert. Neu im Angebot sind 1700V SiC-Metalloxidhalbleiter-Feldeffekttransistoren zusammen mit einer Evaluierungskarte, mit der Vorgänge wie Leistungsüberprüfung und Anwendungsentwicklung vereinfacht werden.
Evaluierungskarte
Als umfangreicher Hersteller von Halbleitern bietet ROHM nun ICs, die für den Einsatz in SiC-Geräten optimiert sind, einschließlich der BD7682FJ-LB DC/DC Wandler-Steuer-IC, welche für eine Leistungsmaximierung der SiC-Hochleistungs-MOSFETs bestimmt sind, wie z.B. SCT2H12NZ. Ebenso erhältlich ist nun eine Evaluierungskarte (BD7682FJ-LB-EVK-402), die beide Produkte miteinander verbindet.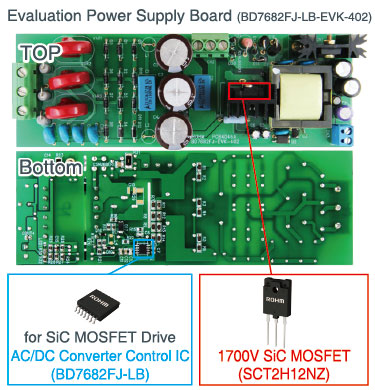 Hauptmerkmale 1:Optimiert für Hilfsstromversorgungen in Industrieanlagen.
Verglichen mit 1500V Silizium-MOSFETs, die bei Hilfsstromversorgungen in Industrieanlagen verwendet werden, bieten die hochleistenden SiC-MOSFETs aus dem Hause ROHM 8x geringere On-Widerstandswerte (1.15Ω) sowie eine Stehspannung in Höhe von 1700V. Zusätzlich bietet das Paket TO-3PFM die erforderliche Kriechstrecke (d.h. die gemessene Entfernung entlang der Oberfläche des Isolators), die für Industrieanlagen vorgeschrieben ist.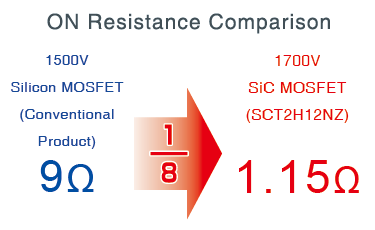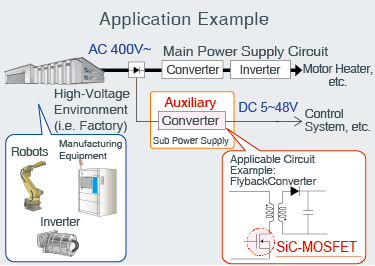 Hauptmerkmale 2:Durch die Kombination mit dem geeigneten IC von ROHM erzielen Sie eine sogar noch höhere Effizienz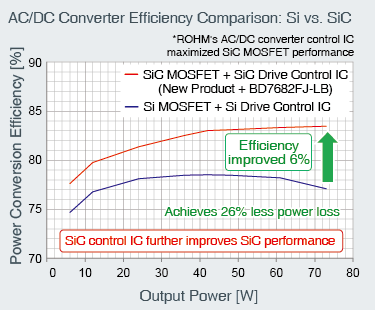 Durch den Einsatz der BD7682FJ-LB AC/DC-Wandler-Steuer-IC wird der Wirkungsgrad um bis zu 6% optimiert und gleichzeitig die erzeugte Wärme reduziert. Hierdurch lässt sich die Größe der wärmeableitenden Komponenten reduzieren.
Produktpalette
Teilenr.
Gehäuse
Polarität
VDSS
ID
PD
(Tc=25℃)
RDS(ON)
VGS=18V
Qg
VGS=18V

NEW

SCT2H12NZ

TO-3PFM

Nch
1700V
3,7A
35W
1.15Ω
(Typ.)
14nC
(Typ.)
☆SCT2H12NY

TO-268-2L
In
Bearbeitung

4A
44W
☆SCT2750NY
5,9A
57W
0.75Ω
(Typ.)
17nC
(Typ.)
☆:In Entwicklung
Ähnliche Informationen
â– Support-Seite
â– Aktuelles
â– Neue Produktbeschreibung
kombinierbar mit Steuer-IC und Evaluierungskarte von ROHM

Evaluation Board
BD7682FJ-LB-EVK-302

BD7682FJ is an AC/DC quasi-resonant flyback controller IC from ROHM Semiconductor and offers an Auxiliary Power Supply Solution if combined with the 1700 V SiC MOSFET (SCT2H12NZ). The BD7682FJ and SCT2H12NZ combined together have been used to develop an isolated 100 W 24 V output auxiliary power solution with a very accurate voltage regulation.
Evaluation Board
BD7682FJ-LB-EVK-402

BD7682FJ-LB-EVK-402 evaluation board outputs 24 V voltage from the input of 300 Vdc to 900 Vdc. The output current supplies up to 1 A. The BD768xFJ-LB series are Quasi-Resonant switching AC/DC converter for driving SiC (Silicon Carbide) MOSFET. Using external switching MOSFET and current detection resistors provides a lot of flexibility in the design.